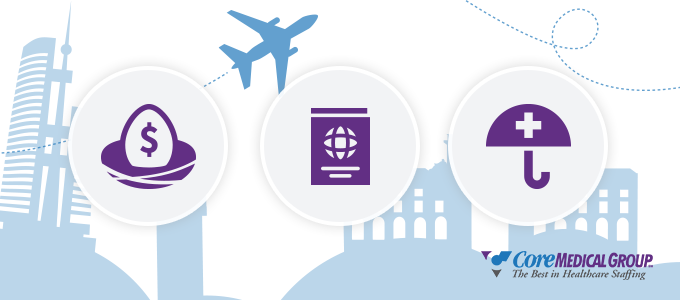 You hear a lot about the "benefits" of working as a travel PT: making your own schedule, seeing the world, experiencing new people and places. But what about benefits for traveling PTs—like healthcare, dental, and retirement planning?
Yes, we know, it's not fun to talk about that stuff, but for anyone seriously considering starting a career as a traveler, it's an important discussion to have. Travel PT jobs also include benefits beyond the usual list, like housing and travel costs, so the discussion gets a bit more complex. However, as any traveler will tell you, it's totally and completely worth it. So let's talk about what you should be getting, where you're getting it from, and what that means for your next job.
The Basic Package: Health Insurance and Other Benefits for Travel PTs
Most of your benefits as a travel PT will be provided by your recruiting agency, so think very carefully before committing to a recruiter. They should be providing you with health and dental insurance, a 401K or other retirement plan, and some form of disability or workers compensation that you will carry with you from position to position, so that even as a contract worker you are never without insurance.
Other things you should look for from your recruiter are plans that cover family members and pets (if you're a pet parent who plans on traveling with your furry friend).
Travel-Specific Benefits
As a traveling PT, your travel and housing costs will be covered in each contract you take. Your recruiter will help you handle the logistics there, but remember that pay scales and cost of living will change with each new location. Look for housing stipend and per diem information in the contract—not just the hourly pay—before signing on.
If you're not sure about what you should be making in a specific location, do some research! Talk to your recruiter, check out online traveler communities, or other online resources so you feel fully prepared before accepting a contract.
Extra Perks
There are a number of other items that can be included for travel PTs, so when considering working a recruiter or taking a contract, look at the other perks. Free CEUs, discount programs, and referral bonuses are all available to you as a travel PT, so make sure you're getting the best of what's out there.
As a traveling PT, you're committing to be where care is needed, when it's needed, and packing up your whole life to do so every 13-26 weeks. You deserve the best possible benefits package you can get. If you're not getting these things, it might be time to reevaluate.
Interested in speaking to one of our CoreMedical Group recruiters about the benefits available to our travel PTs? Get in touch with us today.