Insurance benefits are effective day one (1) of your travel assignment!
All benefits are elected and managed through the iSolved Payroll and Benefits system.
Every assignment also gives you the support you need to be successful in your contract:
Necessary medical services are scheduled for you and paid up front - no cost to you!
Housing and relocation assistance
Licensing and credentialing support
Plus, with our Club CoreMed loyalty bonus program, you could earn a free, all-inclusive Caribbean vacation just by working with us!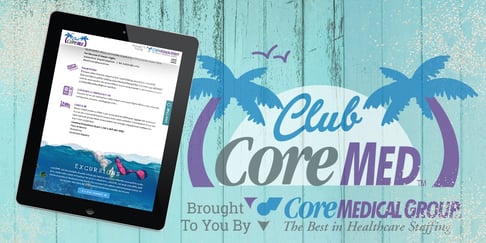 For your convenience, we also offer the following discount programs. Contact your recruiter or benefits specialist for details!
Verizon Wireless
HotelEngine.com
Extended Stay America
WorkingAdvantage.com
SmartScrubs
At CoreMedical, we understand the importance of retaining the best traveling nurses, PTs, OTs, and SLPs – that's why we offer the best incentives for our healthcare professionals on contract.
Have questions about our benefits? Call 800-995-CORE today and speak to an allied health or travel nurse recruiter to find out more!
Travel with confidence knowing that Core's got you covered!