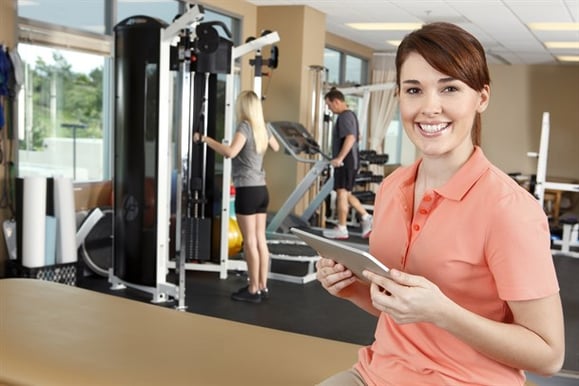 Being a traveling physical therapist is one of the most rewarding jobs in healthcare today. Travel PTs get to help people with injuries or diseases return to their maximum functioning level, all while seeing the country and making a great salary.
According to the U.S. Department of Labor, PTs now make an average of $83,940 a year. For traveling physical therapists, the annual salary can be closer to $100,000. The best part is that there are a lot of travel jobs for PTs with no experience or only a little experience.
So how do you become a traveling physical therapist? Here are three things you must do.

1. Earn Your Post Baccalaureate Degree.
Traveling physical therapists must earn a bachelor's degree, and then a post baccalaureate degree in order to practice. You may need to complete the Graduate Record Examination (GRE) to be accepted to a program, so be sure to do your research beforehand to see if this is a requirement.
Many graduate and post graduate programs require at least a 3.0 GPA, with more competitive programs requiring a 3.5 GPA or more. Be sure to check the required GPA for the program(s) of your choice while you're completing your undergraduate prerequisites.
Physical therapists in the U.S. must obtain a DPT (Doctorate of Physical Therapy). Be sure that your DPT program is accredited by the Commission on Accreditation in Physical Therapy (CAPTE). Most programs take about 3 years to complete.
While you're pursuing your degree, be sure to try to gain some experience by working or volunteering in a physical therapy setting. Students in DPT programs must also complete a clinical internship. It's important to maintain good relationships with your instructors and supervisors, who could provide job references for you later on.
2. Get Licensed.
Every state in the U.S. requires a PT to be licensed to practice in that state. Requirements vary from state to state, but most states require the following:
Passing the National Physical Therapy Examination (NPTE)
Criminal background check
Law exam
(If you're renewing your license) Completion of continuing education credits (CEUs)
For complete licensing requirements, contact your state board of physical therapy. If you're a traveling physical therapist with CoreMedical Group, we'll help you get licensed.
3. Find a Travel Physical Therapy Recruiter.
The next step is to find a travel physical therapy recruiter. You don't want to work with just any recruiter. Ideally, you want to find a recruiter who works hard for you to get you the contract of your dreams and the pay you deserve.
Honestly, there are some travel recruiting companies out there who might treat you like a number and not a real person. Be selective when it comes to choosing a travel therapy recruiter. Call a few different travel agencies, talk with them about the opportunities they have, and see whom you feel the most comfortable working with.
What to look for in a travel therapy recruiter:
Honesty and Transparency
Advocacy
Dependability
What to avoid:
Being submitted to a job without agreeing to it
High pressure tactics to get you to take a job you don't want
Dishonesty
At CoreMedical Group, it's our mission to connect people and improve lives. If you choose to work with us as a Travel PT, we promise we will treat you like we would our own family members. Every one of our travelers has their recruiter's personal cell phone number so he or she can be reached 24/7.
We believe in helping people live the life they want to live: practicing physical therapy in great job opportunities where they can advance their skills and experience amazing things across the U.S.
Right now, CoreMedical Group has hundreds of travel job openings for PTs. We offer great benefits to our travelers, including access to free online CEUs, day 1 insurance, pet insurance, and the ability to earn a free trip to the Caribbean every year!
---
Want To Learn More About Becoming A Traveling PT?
Contact us today, and be sure to download our Travel Physical Therapist Guide!