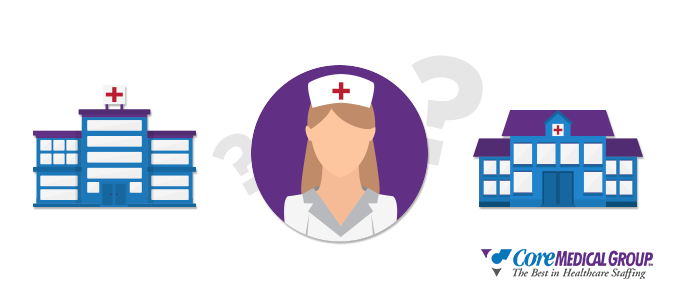 If you're a nurse in the U.S. looking for a job, you're in luck. Employment of registered nurses is projected to grow 16% in the next 10 years, meaning there are lots of jobs out there for a qualified healthcare professional like yourself.
However, this may put you in the position of having to choose between offers, which can be a difficult decision. It's one travel nurses experience often, trying to decide what contract to accept next. So how do you choose when there are multiple nursing job offers on the table?
This year, five separate positions with the word "nurse" in the title made it on to U.S. News and World Report's 100 Best Jobs list, so you already know you're in a great field. The publication says the rankings are based on "salary, the number of expected openings, advancement opportunities and career fulfillment."
While those components are certainly important, the decision-making process will be different for each person. So here are some guiding principles we think everyone should keep in mind when choosing between nursing job offers:
Consider the Benefits, Not Just the Salary
When deciding between two jobs, money is always a factor, but be careful to consider the non-monetary benefits alongside the actual salary figure. Is a comprehensive benefits package available (medical, dental, etc.)? How much vacation time will you receive? Is there a retirement savings plan?
If one job offers a higher salary, but a weaker benefits package, you could end up with less money in the long run.
Also remember that salary figures vary based on location. What might be considered a highly competitive number in Ohio might not be in New York. Check with a reputable source, like the U.S. Bureau of Labor Statistics, to make sure what you're being offered is appropriate to the location.
A great approach to weighing your options is to list of the pros and cons including health benefits, location, perks, salary, and more. This will help you visualize the comparison.
Think About Your Career Goals
After going through the technical pros and cons of each nursing job, take a step back and think about the bigger picture. Which position will better serve you in your career goals?
Now, maybe you're not sure where you want to be in five or 10 years, and that's fine! But you probably know what's really important to you in a job, and what isn't, so look at your options through that lens. Are you working toward a specific position, or any position as long as you're in the right location? Would you rather have the freedom to travel and change jobs often or find an employer you can stay with for the next ten years? Is continued education part of your plan, and will it fit with this job offer?
According to Scrubs Magazine, education will be a big focus in the nursing field in 2016. In 2011, the Institute of Medicine released a report based on a study which found that increasing the number of nurses on staff who held a BSN by 10% decreased the likelihood of patient fatalities by 5%.
"…the IOM made it their objective to increase the number of nurses with a BSN from 50% to 80% by 2020. With their target date now only 4 years away, expect to see more of an emphasis on your educational background and degree if you are interested in advancing your career or looking for a new position."
As you think about all these questions, you'll develop a better idea of which job might be the better fit for you, which brings us to our final guideline…
Trust Your Instincts
We know that for many nurses, overall work environment and respect are much more important than monetary compensation, so trust your instincts when making a decision to take a new job. If you've made all the lists and compared every aspect of each nursing job offer and one just feels right, we say go for it.
As a traveling nurse, your nursing recruiter should be able to help you with these decisions, without pushing you into a contract that isn't right for you. They should know your priorities and assist you with the process of finding and getting to a new position when it's time. Contact us today to speak to one of CoreMedical Group's specialized nursing recruiters.