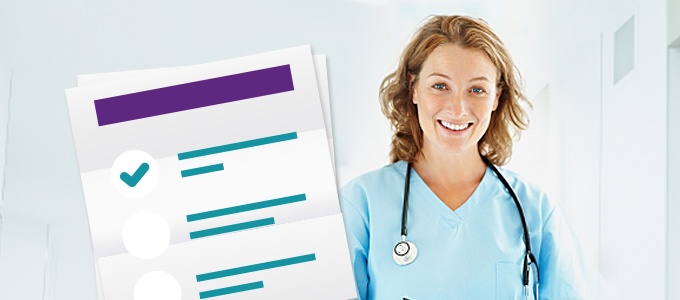 Travel nursing can be one of the most satisfying career paths in the healthcare field. The opportunity to perform the work you love while traveling the country makes an already fulfilling job all the more interesting.
If you're considering a career in travel nursing, check out the requirements below. If you're already a registered nurse or a nursing student, you're halfway there! If you're just starting out, let these requirements help you outline a rough plan.
Travel Nursing Job Requirements
Meet these four travel nursing job requirements and you should score a contract with any nurse staffing agency:
1. Degree or Diploma in Nursing
For a nurse to secure permanent or contract RN placement with any nurse staffing agency, he or she must have completed one of five educational programs to become a registered nurse:
Four year Bachelor of Science in Nursing (BSN)
Two+ year Associate's Degree in Nursing (ADN)
Two year Nursing Diploma from a participating hospital
Masters of Science (add on to BSN)
Two, three or four year ROTC Nursing program
Some staffing agencies will have different requirements for RN placement. For example, some may only fill registered nurse positions with candidates holding a BSN, and some may not accept candidates with a Nursing Diploma for an RN position.
Whatever your position, talk candidly with your recruiter. He or she will be able to work with you to find a facility that's the right fit for your education and qualifications.
2. State and National Nursing Licenses
You will need to have passed your nursing board exams and show your NCLEX-RN license. You also need to be licensed in each state before you can practice, but that doesn't mean you should limit your job search.
Some states offer temporary practice permit. Other states have entered into an agreement called the Nurse Licensure Compact (NLC) which gives licensed RNs the ability to practice in the state of their original licensure and in any NLC state. Currently 24 states from Maine to Arizona have entered into the NLC. Finally, some states will require a lengthy licensing process that can be challenging without the help of a recruiter.
Wherever you accept a position, your licensing coordinator should provide you with step by step instructions of everything you need to submit, as well as any application and fingerprint materials required.
3. Recent Nursing Experience and References
Most travel nurse staffing agencies require one year of recent experience in your specialty, though minimum requirements may vary depending on your discipline. Certain specialties (like psych and med-surg) can require up to two years of experience.
You should also produce a few solid references. Because travel nurses move from contract to contract, references can become a particularly important asset for contract RNs. Of course, once you build up a relationship with a travel nursing recruiter, references become less important as the two of you communicate directly about your placements.
4. Passport and Visa if Necessary
Some nursing staffing agencies place healthcare professionals overseas. In this case, you should have a valid passport current through the end of the contract period. If traveling to countries where required, you may also need to obtain a work visa.
While CoreMedical Group does not place our contract or permanent employees overseas, we do have have nursing assignments in locations outside of the continental U.S., such as Alaska, Hawaii, the U.S. Virgin Islands.
BONUS: Skills Travel Nursing Recruiters Want
In addition to the standard requirements necessary to secure a travel nursing job, we often get asked what skills make a resume stand out. While we can't really call these "requirements," any of the following skills can take a good traveling RN candidate to a number one choice:
Strong communication skills
Multi-lingual
Flexible and adaptable
Positive and self-reliant
Want to learn more about what it takes to become a successful travel nurse? Contact one of our dedicated nursing recruiters today.