*Blog originally published on 1/8/15 and updated on 5/17/21

Travel nursing resource website Highway Hypodermics just released their Top Ten Travel Nursing Companies List for 2015, and CoreMedical Group is honored to be on it!
This is our first year making the list, which is compiled annually by traveling nurse Epstein LaRue. LaRue operates the independent traveling nurse resource website
,
and
she
is also the author of the Highway Hypodermics Travel Nursing book series.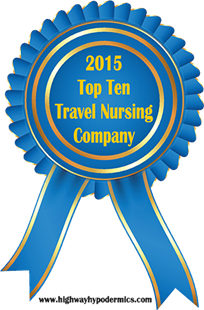 The top travel nursing companies on the Highway Hypodermics list are determined through traveler reviews, attractive benefits offered by travel agencies, and company profiles on the website. We achieved the second highest score from traveler reviews and ranked at #8 overall.
"We couldn't be more pleased," said Armand L. Circharo Jr., President & CEO of CoreMedical Group.  "What distinguishes this particular award is that it is not all dollars and market share and it is not evaluated by financial analysts.  It is specifically cited by our customers; the nurses, therapists, and other healthcare professionals that travel with us.  It is an acknowledgment of the benefits and support we offer to our professionals and how we care for them during their assignments," Circharo said.  "That makes it extremely gratifying." 
Our entire team is excited to discover we made the list and that our hard work has paid off.  Without our loyal travelers and the incredible efforts from our travel team to ensure the happiness of our traveling nurses and therapists, we couldn't have obtained this honor!
All of this to say: thank you! Our goal is to continue to provide nurses and allied health professionals alike with top notch service and benefits in 2015 and beyond!
Looking for a new travel nursing or therapy assignment? Check out our travel nurse and travel therapist openings, or contact one of our medical recruiters on this form, call 800-995-2673, or email info@coremedicalgroup.com to find out more about how to become a traveling healthcare professional.