In the world of staffing and healthcare solutions, CoreMedical group has shined throughout the years, earning recognition and accolades from SIA (Staffing Industry Analysts). Our recent achievements in the SIA's lists not only highlight our excellence but also sheds light on the role that SIA plays in shaping the industry. Let's dive into these achievements and explore the significance of SIA's work in the staffing landscape and how we have made our mark in the industry.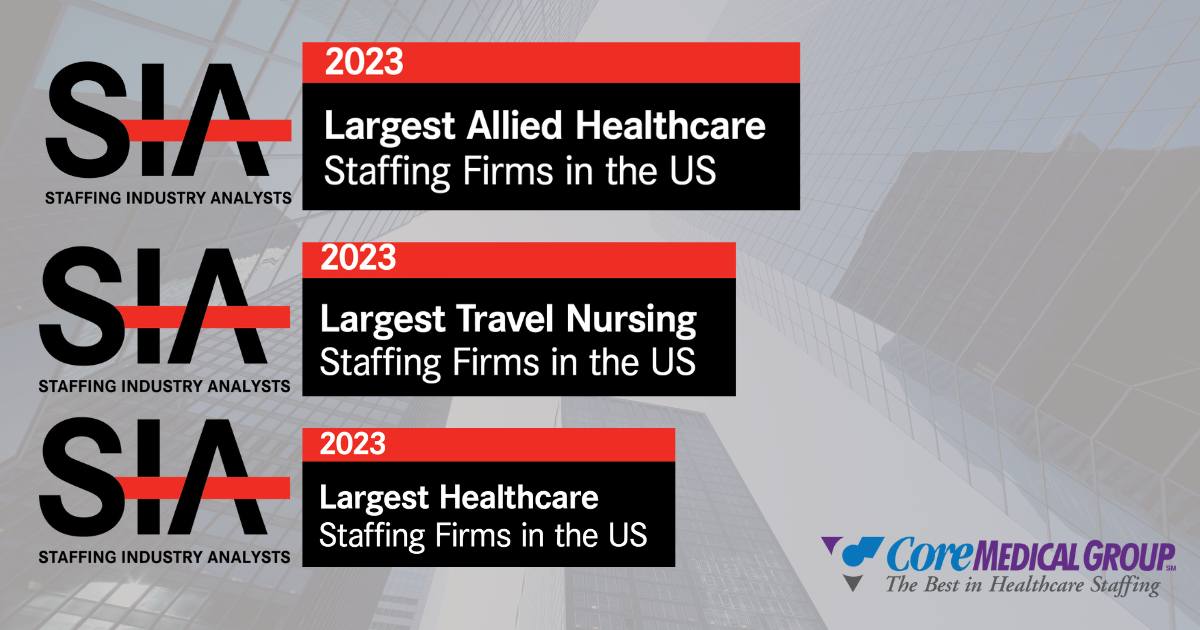 CoreMedical Group's achievements:
Fastest-Growing US Staffing Firms of 2023 - Rank #119

Our remarkable growth trajectory has earned us a spot on the 2023 Fastest-Growing US Staffing Firms list. To secure a place on this prestigious list, companies must demonstrate a minimum US revenue of $1 million in 2018 and exhibit an impressive compound annual growth rate (CAGR) of at least 15% over the span of 2018 to 2022. A deeper look into the statistics reveals an even more impressive achievement. The companies featured on the 2023 list have a median CAGR of 33.8%, with the top 10 companies soaring to an astounding median CAGR of 131.3%. CoreMedical Group's performance places us at #119 on this exclusive list.

Largest Healthcare Staffing Firms of 2023 - Rank #52

CoreMedical Group's prominence shines through as we secure the 52nd position among the largest healthcare staffing firms. This recognition further solidifies our role as a leading player in the healthcare staffing sector. CoreMedical Group's journey towards excellence starts with our inclusion in SIA's list of the Largest US Staffing Firms for 2023. SIA, an organization known for its authoritative insights into workforce management and employment solutions, has upheld this tradition for a remarkable 28 years. They carefully evaluate firms based on their US staffing revenue, requiring them to have generated a minimum of $100 million in US revenue during the preceding year. CoreMedical Group's spot on this list signifies our positive mark within the industry.

Largest Travel Nurse Staffing Firms of 2023 - Rank #43

Our commitment to providing top-quality healthcare staff takes light as we secure the 43rd position among the largest travel nurse staffing firms. This achievement highlights our dedication to excellence in healthcare staffing.

Largest Travel Allied Staffing Firms of 2023 - Rank #32

In the world of travel allied staffing, CoreMedical Group soars to the 32nd spot among the industry competitors. This position reflects our influential presence in delivering travel allied staffing solutions.
SIA: The Guiding Force in Workforce Solutions
SIA is a global authority in workforce management and employment solutions. SIA conducts comprehensive research that encompasses a wide spectrum of work arrangements, ranging from temporary staffing to freelance contracting and various forms of contingent labor. Their impartial and analytical assessments provide invaluable insights into the multifaceted workforce solutions landscape, including staffing agencies, managed service providers, recruitment process outsourcing firms, payroll and compliance entities, and specialists in talent acquisition technologies.
As a division of the international business media entity, Crain Communications Inc., SIA's headquarters in Mountain View, California, and offices in London, England, highlight their global reach and impact in the workforce solutions realm.
In conclusion, CoreMedical Group's recent achievements in SIA's lists are a testament to the companies commitment to excellence and our prominent role in the staffing and healthcare solutions industry. SIA's contributions in research, training, and information helps companies like CoreMedical Group to thrive in an ever-evolving landscape. These accolades not only reflect the success of CoreMedical Group but also emphasize the role played by SIA in shaping the future of workforce solutions. Congratulations to the CoreMedical Group team and other industry leaders for these well-deserved honors, and kudos to SIA for their ongoing dedication to the industry's growth and excellence!