This week, we're thrilled to introduce Danielle, a seasoned travel nurse recruiter with over five and a half years of experience in Core's travel nurse division. When she's not hard at work, you can find her at the barn, horseback riding with her cherished companion, Chauncey! She also loves cherishing valuable moments with her family and two adorable pups, Sadie and Stanley.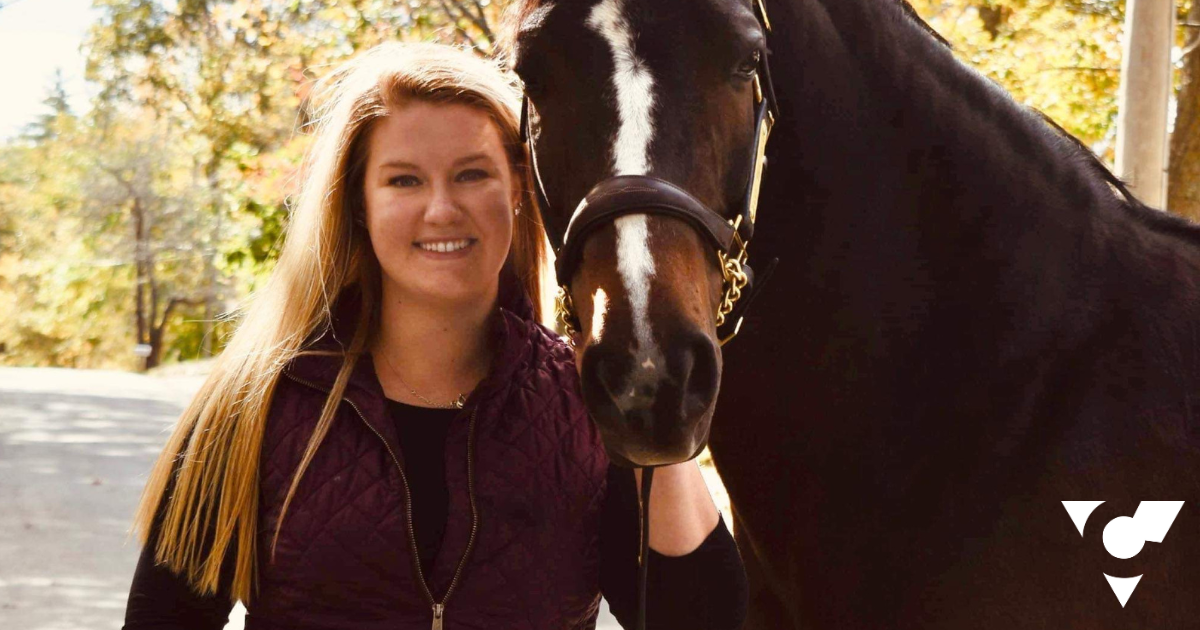 Meet Danielle, a recruiter in the travel nursing division at Core.
Tell us about yourself:
I'm a seasoned travel nurse recruiter with over five and a half years of experience in Core's travel nurse division. When I'm not at work, you'll often find me at the barn, enjoying horseback riding with my beloved horse, Chauncey, or spending quality time with my family and two loyal dogs, Sadie and Stanley. I also love spending time with family and friends!
Q2: What inspired you to pursue a career in healthcare recruitment, and how has it influenced your professional journey?
When I started college, I was uncertain about my career path, so I chose to major in business administration, believing that it would provide me with versatile opportunities. As I approached my senior year, I discovered my passion for nursing. Despite being just a few credits away from graduation and facing student debt, starting over wasn't a practical option. Consequently, I completed my business degree, determined to find a way to make a meaningful impact in healthcare and assist others. That's when I found myself with the amazing opportunity of healthcare recruiting.
Q3: What is the most memorable or rewarding experience you've had while recruiting?
One of the most fulfilling moments in my career as a recruiter was earning the chance to attend Club CoreMed trip. This accomplishment is earned by the result of dedicated efforts by both recruiters and nurses every year. Participating in this trip has provided me with the invaluable opportunity to personally meet the exceptional nurses I collaborate with, strengthening our professional bonds. Additionally, it's a time to reward myself for the time and hard work I put into this profession.
Q4: What qualities do your candidates possess that allow them to truly shine in the healthcare industry?
In addition to seeking nurses with expertise in their respective specialties, I prioritize individuals who are passionate about making a meaningful impact in their patients' lives. Honesty and effective communication are also crucial qualities I value. As your recruiter, we form a close-knit team, and it's essential that we share a mutual understanding. I make it a point to invest time in getting to know my nurses and understanding their ideal contract scenarios. This approach not only enhances my ability to perform my role effectively but also ensures that I can identify the best possible fit for them.
Q5: What strategies do you use to ensure a successful match between healthcare professionals and their respective roles?
I firmly believe in dedicating time to have a thorough understanding of my clinicians contract preferences. I'm eager to dive into their goals and the motivations behind their desire to travel. By clinicians vocalizing their likes and dislikes, I'm better equipped to suggest suitable contract opportunities and connect them with the right role. Furthermore, I place great emphasis on thoroughly reviewing the contract details, ensuring that nurses have all the necessary information to make informed decisions.
Q6: How do you stay updated on the latest trends and developments in the industry to better serve traveling healthcare professionals?
The travel market is a very dynamic landscape, and staying up to date is crucial for myself, my nurses, and Core. I actively participate in Facebook travel groups where nurses share their experiences and tips. Additionally, I maintain close connections with nurses currently on contract, enabling me to stay informed about the latest trends and updates. Our nursing division also holds daily meetings where we discuss any changes or developments within the travel industry, ensuring that we remain well-informed and responsive to anything that may arise.
In her impressive career spanning over five and a half years as a travel nurse recruiter within Core's travel nurse division, Danielle has consistently showcased her exceptional skills and dedication. Her ability to form meaningful connections with her nurses, paired with her commitment to matching the right professionals with the right opportunities, has set her apart in the industry. Notably, Danielle's achievement of the Club CoreMed trip exemplifies her success and dedication to healthcare recruitment. Her journey shows her goal of the success of her nurses, making her a true asset to the healthcare recruitment field and to Core.