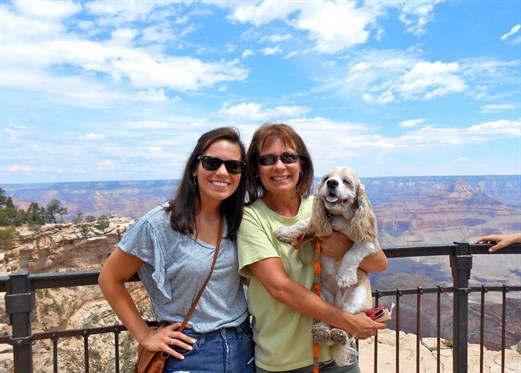 Travel nurse Debra (right) is shown with her dog Honey and daughter Haylee (left) at the Grand Canyon.
If you're a traveling nurse or therapist, you know that a lot of planning goes into making sure you have a successful assignment. When you throw a pet (or two) into the mix, there's even more to think about and plan for. Here are 10 quick tips for hitting the road with your pet and ensuring they adjust well to their new surroundings:
1. Pack their health documents.
Chances are you've just filled out and turned in several documents to your traveling agency for yourself, but don't forget about your pet's documents! It's a good idea to pack your pet's medical records, vaccination records, and any other pertinent information just in case you need to see a vet while you're away from home (psst... CoreMedical Group offers Pet Insurance to traveling nurses and therapists, so be sure you opt for that coverage to save on your vet bills!).
2. Take breaks.
If you need a break, chances are your pet does too. Make sure if you're taking a road trip to keep your pet's food intake to a minimum and give them plenty of chances to stretch their legs and use the restroom.
3. Safety first.
It's really cute for your cat or small dog to be sunning themselves on the dashboard, but it's not safe at all. Make sure all pets are properly restrained when traveling so they don't get injured during turns or sudden stops. Also, you don't want them to dart out of the car when you open the door. Pet car seats are a good option to increase your pet's safety in your vehicle.
4. Know the lay of the land.
Once you get to your new "home for the next three months," scope out safe walking paths and parks nearby. Check out the leash laws for your new area and make sure you stay compliant. Also, locate the nearest veterinarian's office or emergency animal clinic. You'll want to have this information on hand before you actually need it. One of our nurses recommended choosing a national vet such as Banfield (inside most PetSmart stores) so they always have access to your pet's medical records even if you don't have them on you.
5. Get new ID tags and microchip them.
Get a new tag for your pet with your contact information, plus your new address. This way, if they happen to get lost, the person that finds them will know where they belong. It is also recommended that you microchip your pets. This greatly increases the chances of them returning home if they are lost or stolen! It also helps to keep an updated picture of your pet on hand just in case they get lost.
6. Give them time to adjust.
Sometimes it takes pets (especially cats) a while to adjust to the idea of a new home. You can make this process easier by using familiar items, like blankets, food bowls, litter boxes, etc., and putting them in a similar place as they would be in your permanent home. Make sure to keep your pets confined so that they won't try to escape and head "back home".
7. Get them a Thunder Jacket.
Our nursing and allied recruiters highly recommend purchasing Thunder Jackets for your pets. Like swaddling blankets for babies, these jackets help reduce a pet's anxiety. Pets, like people, can get anxious or depressed in new environments. We're told that Thunder Jackets work wonders to keep a pet calm, especially while you're away at work.
8. Protect yourself.
If you're moving into an apartment, document the condition of the apartment with pictures as soon as you move in. Unfortunately, pets can sometimes be blamed for damage they really didn't create. With pictures, you'll be protecting yourself from incurring damage charges.
9. Keep them busy.
To keep pets out of trouble while you're away, give them something to do! Try interactive pet toys that are designed to keep your pet's attention on the toy and not on the couch. Also, if they have several favorite toys, try rotating their favorite toys out so that something always seems "new" to them.
10. Have fun!
You brought your pet along on your assignment because he or she is your best friend, right? So, make sure to involve them in as many activities as possible. Find dog parks, hiking trails, pet friendly restaurants, or even pet play groups so your pet can experience all of the new sights and sounds (and smells!) of your new city too!
Are you an RN, PT, OT, SLP or Surg Tech looking for an adventure? Why not get paid more to do what you do now and travel across the country?
CoreMedical Group offers fantastic traveling opportunities in Hawaii, Florida, California, Massachusetts, Alaska, and more. Our benefits package includes free online and unlimited CEUs, day 1 insurance coverage, weekly pay, an annual trip to the Caribbean, and (most important of all) pet insurance!
Search our travel nursing jobs and allied health contracts, or join our talent community to automatically be notified about job openings in the area of your choice.
Do you have questions about traveling as a healthcare professional? Feel free to contact us! We're happy to help