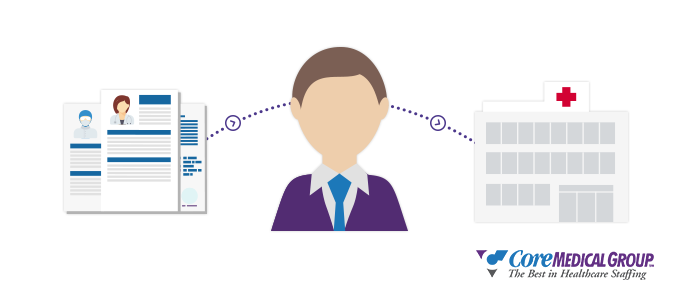 Whether you're a nursing director looking to hire, or a nurse looking to get hired, finding the right nursing recruiter is critical.
We know the idea of jumping into a new job is exciting, and demand for nurses is pretty much constant, but it's important to make sure the healthcare staffing company you're working with is going to connect you with the right job, or nurse. They should know what you're looking for and make the process easier, not get in your way.
With that in mind, here are a few things to keep in mind when you're looking for a nursing recruiter:
Traveling Nurses
When you're initially looking for a recruitment company, start by making sure that the company offers the locations and facilities that you're interested in. Are you looking for hospitals or home health? Hawaii, Florida, or somewhere in between? Make sure the agency you're looking to work for has the right connections. You also might not want permanent placement now, but what about in the future? Find out if the agency offers permanent placement options too, so you're prepared if things change.
Before committing to a company, you should make a list of the things you absolutely need and the things you don't need, but want. This could include benefits, retirement savings opportunities, travel reimbursement, or other details. How much does the company help you with licensing and travel? Don't be afraid to ask your recruiter about these details. They should be happy to help you navigate all the options available.
It's also good to talk to other nurses, or check a company's reviews before deciding to work with them. No one has better information than someone who's already been where you are now. Many nurses are happy to share their recruiter's name with other nurses who are interested.
And remember – despite all of the best research, go with your gut. Do you feel like the company will value you? Will your recruiter work closely with you to find the perfect positions, and help you through the process? If a recruiter seems great, but you're still not convinced, keep looking. Your nursing instincts will serve you well here.
Nursing Directors
If you're not looking for a new job, but you have openings to fill, a staffing company can be a great option. And, as a nursing director, you want to be sure the staffing company you're working with is hiring the best possible people. Ask about their screening process and requirements. You may also want to make sure the company is taking care of the logistics of getting your new staff to you. Do they handle housing and travel? Will they make sure your new staff is fully licensed to work in your state?
You should also find out the details about positions they staff beyond your immediate needs. If you're looking for a nurse now, but may need a physical therapist in the future, you might want to find an agency that works with both to save yourself time and effort.
Whether you're a nurse looking to start a new career in travel nursing, a travel nurse looking for a new recruitment company, or a nursing director in need of staff, CoreMedical Group can help connect you to the people and opportunities you need. For further information about CoreMedical Group and our Travel Placement Divisions, please check out our FAQs or contact us at 800-995-2673.
Looking For More Information on Travel Nurse Jobs?
Contact us today, and be sure to download our free checklist!