(and lived to tell about it!)
Imagine taking 13 exams in a matter of 2 weeks. Can you see it? Neither could I; it was like trying to imagine having ten million dollars. Can you even fathom that amount of money? Well, that's easier to envision, but still! Don't worry about it, because if I can pass 13 PT school exams in 2 weeks, you can do it, too. Here is my quick guide to surviving the zombie apocalypse.
1. Build a buffer
When you realize the end of the term will contain an onslaught of exams, you learn to plan ahead. Your first exam for every single class should be your most important. Forget the fact that some professors will put more weight on subsequent exams. The only time I will advocate for shooting for 100% on your exams is when you're starting out the term. First exams are usually less dense in material and your mind is sharp and refreshed after a holiday. Moreover, even if you don't achieve 100%, you probably came closer than if you were to set your goals on simply passing. Start drilling this in your mind, because this was the best advice I got from an upperclassmen, and it has saved me from losing sleep and over-stressing.
2. Set small, achievable goals
Sometimes you need those small wins to get your day going. I like to map out a plan of attack before going to sleep so I wake up with something to look forward to. By having a plan of attack, I feel more empowered to use the day productively, rather than staring at the list of exams upon waking up; that just induces panic! For instance, I always create a 'to-do' list for each upcoming exam, and figure out my weaknesses in each topic.
The topics I wasn't able to master become my top goals for the next day.
3. Reward yourself
Whether or not you did well on a tough exam, reward yourself! Personally, right after a challenging exam, I go workout and eat some good food. If you have a reward coming your way, you'll associate taking exams with those rewards, and they won't be (quite as) daunting.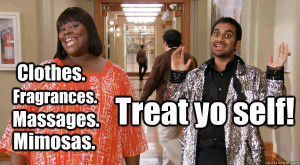 4. Choose your battles
The do-it-all perfectionist mentality is achievable, but at a costly price of looking like a zombie and a taking fat blow to your wallet via coffee purchases. If you've followed tip #1, you'll have given yourself enough cushion and stress relief to take a loss on certain exams, because maintaining sanity is more important. My sanity is certainly more important to me than maintaining straight As.
5. Study before class
I'm sure you've heard a professor or 2 say something along the lines of, "read through the slides before coming to class." No, they are not nagging you and trying to make your life harder than it needs to be. This is excellent advice that you probably don't recognize until later on, but by then, it's too late. But I'm telling you, its not too late! Yes, I'm asking you to add more to your plate than you already have, but it's because I believe in your ability to digest everything in bit sizes. Looking ahead will give you insight as to what to expect so you're not seeing it for the first time. Also, you get an opportunity to think one-step ahead and try to figure out what why your professor decided to spend more time on certain topics (hint: it's probably an exam question). Don't forget that your classmates are a great resource and you should support each other!
6. Check your ego
What you were able to accomplish during undergrad means absolutely nothing to the here and now. It's easy to get trapped into patting yourself on your back when you didn't get the grade you wanted, by reflecting on your previous accomplishments. It is also dangerously easy to bomb the first exams of the term by becoming complacent after doing well the prior term. Approach each exam with a fresh attitude and you won't be trapped into feeling over-confident (or under-confident), based on prior experiences.
7. Time out
I will never question the work ethic of anyone who made it to graduate school. However, I will question how working your tail off is impacting your life, especially if your stress is showing all over your face and affecting your relationships.
You may figure that your hard work is what got you to grad school, so why change it? Because you will burn out. Balance is the key to longevity, efficiency, and keeping your sanity. I set out 15 minutes in the morning to meditate and I stop studying no later than 8:30pm to allow myself to unwind and not think about school. Also, I give myself easy days on Saturdays, which means studying whenever I get to it (I swear I do get to it eventually!)