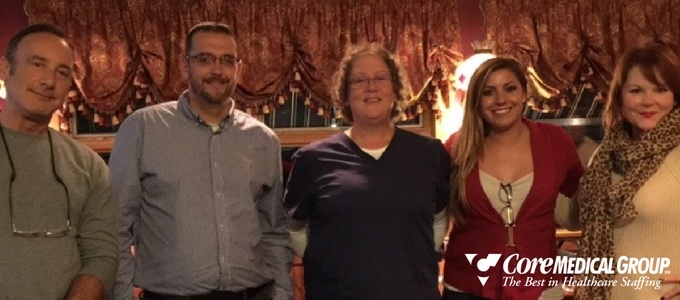 Ever wonder what it's like to meet a CoreMedical Group recruiter in person? On October 20th, two of our Travel Nursing recruiters, Melissa Fox and Derek Leo offered this opportunity to three of their travel nurses, taking them out for a delicious dinner and meet-and-greet!
Melissa had the idea to invite everyone for an informal get together and suggested the idea to her fellow recruiter Derek. The two invited several nurses working on local assignments and three, Tom V., Lydia A., and Lenora C., were able to join them and meet their recruiters in person.
"Lydia and Tom thought it would be a great opportunity. Both are experienced travelers and haven't ever met with their recruiters before," Derek said.
Derek and Lydia had been working together for 2.5 years before Thursday's meetup, with Lydia qualifying for Club CoreMed this year and last year! Tom had just come on board a few weeks prior thanks to a great recommendation from one of Derek's long-term travelers, Jenna C., so this was a great chance for him to see what CoreMedical is all about.
"Lenora thought it was awesome and was hoping she would get an opportunity to meet me someday while she was up in New England," Melissa said.
Anxious to meet with her recruiter Melissa, Lenora has been joined at the hip with Core and her fave recruiter since December 2015. She began with two contracts in Lexington, SC, is finishing her 2nd contract in Littleton, NH, and will soon move south to her 5th contract in Durham, NC. She has also qualified for multiple Club CoreMed vacations, including the upcoming March 2017 trip!
"Melissa continues to provide excellent customer service with her calls to me to check in. Any issue I have, she responds quickly and the resolution is speedy and on point. It was during one of our check in calls that the dinner came about," Lenora shared. "Because I am currently working in NH, she mentioned that we should meet for a face to face with a dinner. I'm so glad she did. I now have a face to go with the voice on the other end of the line."
The group got together at Greenside Restaurant in Tilton, NH on October 20th and Lenora explained, "The meal was great but the company was even better. I also got to meet Derek and other travelers. Everyone was very nice and a good time was had by all!"
"We were encouraged every step of the way by management to engage with our travelers in events like this," Derek said. "This meeting came on very short notice and there were many travelers who really wanted to meet up," he explained, sharing that many more meet-and-greets are in the works. The two Travel Nursing recruiters are already making arrangements for future evenings out with their other valued RNs and LPNs.
"I would be happy to see Lenora again either before she heads down south or next time she comes back up to New England," Melissa added. "I will definitely plan on meeting more travelers whenever possible! Makes me appreciate my job more and more!"
Ready to meet your own travel nursing recruiter? Contact us today!