Want to go to Combined Sections Meeting 2017 in San Antonio, Texas next year, but your CEU budget is stretched a little thin? By the time you pay for the conference registration, lodging, meals, and flights, just one trip could easily exceed the allotted budget that many employers provided.
Perhaps it's time to think creatively! For example, what if you could go to CSM for just the cost of conference registration and meals? With the strategic use of credit card sign on bonuses and your regular spending, you absolutely can!
Let's look at this puzzle step by step. I live in Cleveland, Ohio, so we'll use my city as an example.
Flights
The core programming for CSM runs from February 15-18, 2017. Let's say I want to fly into San Antonio on February 15, and depart on February 19. I first run a quick search on Southwest, one of my favorite airlines: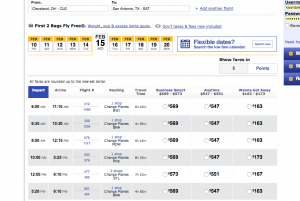 As you can see, a one way flight starts at $163 for my date. But you can also purchase this ticket with around 10,000 Rapid Rewards points, by clicking on the option to show fares in points: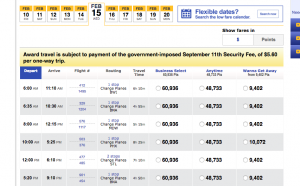 The return flight is a similar concept, although prices are slightly more expensive both in $ and in points, as is typical for a Sunday flight. For this example, I could purchase my flights both ways for 22,689 Rapid Rewards points.
So how would you go about getting those Rapid Reward points in order to get the ticket for FREE and only pay the $5.60 in taxes? There are a few options, but I most often recommend either the Chase Sapphire Preferred card or the Chase Sapphire Reserve Card. The Chase Sapphire Preferred offers 50,000 bonus points if you spend $4000 in the first three months. While that may sounds like a lot of money, think about how you could put all of your daily purchases on the card, prepay your car insurance bill, prepay your electric bill, and even pay your CSM registration on the card!
The Chase Sapphire Reserve card is also an excellent choice, offering 100,000 Ultimate Rewards points for spending $4000 in the first 3 months as well. This card does come with a hefty $450 annual fee, but you can easily gain more than four times that value from the card in the first year alone! For example, the card comes with a $300 travel credit every year that can be applied toward a rental car, any flight or hotel stay!
Hotel
APTA has room blocks reserved at several hotels conveniently located to the conference center. A few of these hotels appear to be running just over $200 a night for the conference dates: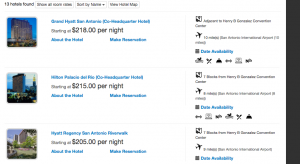 If you're happy to pay this price, these are great options! But for a 4-5 night stay, I prefer to use points and save my $1000 for other things in life (like investing in my 403b!)
Using a site like Hotelhustle.com, I can check which hotels in the area can be reserved with loyalty points. The website also shows me whether these hotels have any availability for my dates. I have selected the option to view hotels in the Hyatt, Marriott, Starwood, and IHG brands, as I typically find good value with those points, and they have easy options to earn those points as I will show below: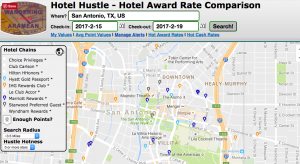 Further inspection reveals a few good possibilities. While most of the hotels immediately adjacent to the conference center are sold out and probably primarily reserved through the room blocks by APTA, there are several options within a mile of the conference and a 15-20 minute walk.
Marriott has several good options within walking distance of the conference. The Residence Inn San Antonio Downtown can be reserved for 25,000 Marriott points or $205.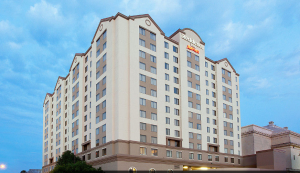 You can earn 80,000 Marriott points from the Marriott Rewards Card issued by Chase Bank. Another great perk of Marriott brands is that you can get the 5th night free when reserving 4 nights with points. If you were able to obtain an additional 20,000 points by staying at Marriott hotels, spending on the credit card, or adding an authorized user to your account for a 7500 point bonus, you could get 5 nights at this Residence Inn (with breakfast!) for only 100,000 points!
Another good option is the Hyatt Place San Antonio Riverwalk, which can be reserved for 12,000 Hyatt Points or $176, which is a 17 minute walk from the conference center: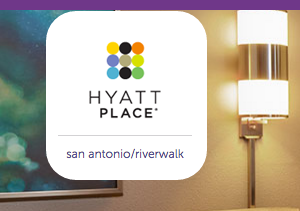 Hyatt points can also be transferred from the Chase Sapphire Preferred or Chase Sapphire Reserve card as mentioned above! Four nights at this hotel would cost 48,000 points, plus the 22,000 needed for the flight on Southwest. You could easily earn that many points from opening 1-2 credit cards and meeting the minimum spending requirements with your daily spending! I guess we'll see you at CSM after all!
A few caveats and important points to consider:
Applying for credit cards, meeting the required spending, and earning the points takes time. As CSM is only 4 months away, it might be difficult to pull this trip off before the availability at these hotels disappears as more people reserve their lodging. But the same principles can easily be applied for other trips, like CSM 2018 in New Orleans, Louisiana!
Make sure to have a plan for how you will meet the minimum spending requirements for each credit card before applying. It is counterproductive to make purchases you do not need or cannot afford in order to meet the minimum spending!
If you carry credit card debt of any kind, or do not pay off your credit card bill in full every month, this is not for you. Paying interest on your purchases will quickly wipe out the benefits of free travel that you receive! Wait until you have streamlined your finances and can pay off your purchases every month. Read my Guide to Personal Finance for Physical Therapists to get some tips on how to get your financial life in order!
You may not be approved for a Chase credit card if your income is low, credit score is low, or if you have opened more than 5 credit cards in the past 2 years.
Some of the links in this post are my referral links, meaning that I may receive bonus points if you apply and are approved through my link.
With all that in mind, apply responsibly and enjoy the networking, learning, and fun that happens at Combined Sections Meeting without busting your CEU budget!