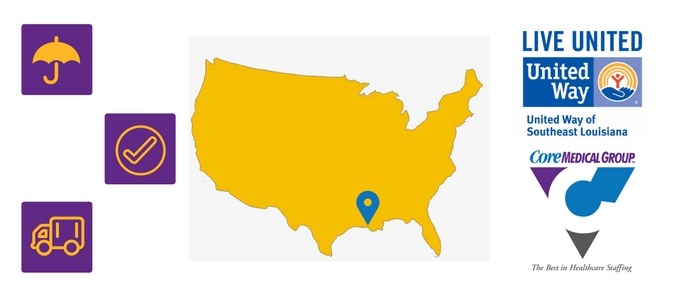 Surpassing their initial goals, employees once again came through for those in need during the Core Cares 4th quarter charity drive - this time offering a total donation worth over $10,000 to the United Way of Southeast Louisiana.The Core family donated $6,200 worth of much needed items to the United Way of Southeast Louisiana after rising flood waters continued to impact residents.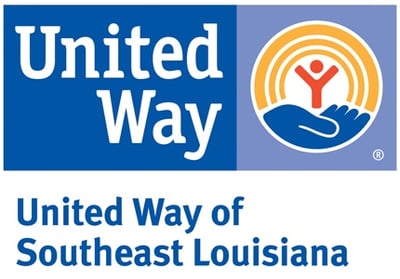 "Mother Nature has once again shown us she is in charge. Just several months ago our region was flooded and now they are hurting again," United Way of Southeast Louisiana President and CEO Michael Williamson shared. "Families who are still trying to rebuild are now at risk. Our residents are resilient, but they need help to recover."
Each employee had the opportunity to select products from an Amazon.com wish list the United Way of Southeast Louisiana set up for Core. On the list were much needed personal care and cleaning products like bottled water and soap, bleach and mops. Each product selected by staff and purchased on Amazon.com was shipped directly to the Multi-Agency Disaster Warehouse in Baton Rouge, LA for sorting and distribution.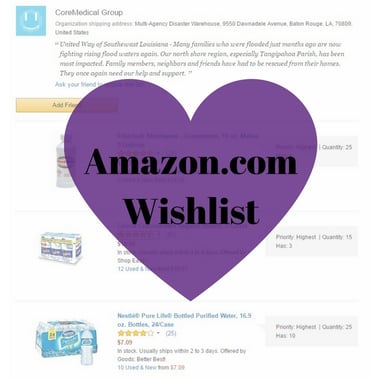 In addition to the employees' generosity, the CoreMedical Group company matched the wishlist donations with a monetary donation. This brought the value of our Core Cares 4th quarter efforts to over $12,400!
CoreMedical is and will continue to be committed to connecting people, improving lives, and giving back by fostering philanthropy at the employee and company levels. Visit our Core Cares initiatives page to learn more about how we contribute to our community and the array of charities we've donated to in the past.