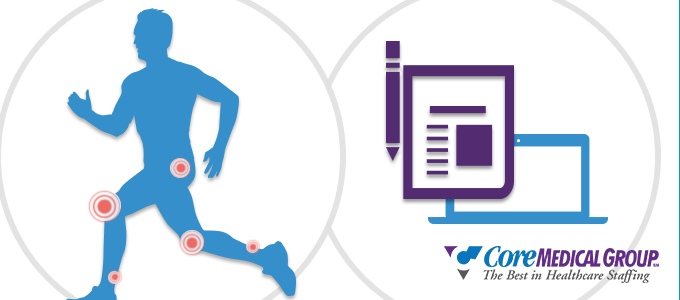 Physical therapy and occupational therapy are both rapidly growing fields that contribute to the healthcare community and overall patient experience in a huge way —but there is still a lot of confusion over exactly what the difference is between these two practices.
Whether you're a medical student looking into post-graduate study possibilities, or an established PT or OT in need of something to send to friends who say, "Aren't they sort of the same thing?" here's what you (or they) need to know.
Physical Therapists
Physical therapy is the physical rehabilitation of patients recovering from injuries or disease to help them restore mobility. Physical therapists, according to the American Physical Therapy Association, "are health care professionals who diagnose and treat individuals of all ages, from newborns to the very oldest, who have medical problems or other health-related conditions that limit their abilities to move and perform functional activities in their daily lives."
The most common titles for physical therapists tend to be Doctor of Physical Therapy, physiotherapist, or simply DPT or PT. Massage therapists, chiropractors, and personal trainers are sometimes referred to as physical therapists, but do not have physical therapy licenses and do not provide the diagnostics, restoration and maintenance, and long-term prevention services physical therapists are known for.
PTs use a variety of treatment techniques to promote mobility, reduce pain, restore function, and prevent long term disability, many of them hands-on in nature. Stimulating muscles, using traction to ease the suffering of a patient with a herniated disc, or utilizing exercise as a means to stave off recurring injuries, physical therapists do one-on-one work that makes a major difference.
They can work in hospitals, private practices, outpatient clinics, home health agencies, schools, sports and fitness facilities, work settings, or nursing homes.
Occupational Therapists
While occupational therapy includes study and consideration of the physical aspects of rehabilitation and motion, its main focus is helping people redevelop the skills needed to engage in life activities. Occupational therapists also help with environmental modifications to help those with disabilities participate fully in school, work, or social situations.
Occupational therapist titles are frequently abbreviated and include OTR/L (Occupational Therapist, Registered, Licensed), OT/R (Occupational Therapist, Registered), and OT. In their roles, OTs are often asked to evaluate familial, school, and individual needs before intervening through the use of therapy, specialized equipment, and skill development.
For example, an occupational therapist might visit a person with disability at their home, office, or classroom and evaluate whether those spaces meet their needs. OTs may also help those suffering from disabilities or injury to regain abilities necessary to live a full life, and educate parents, co-workers, and primary caregivers about how they can do the same, often serving as source of reassurance and expert guidance to families and teachers.
You can find an occupational therapist anywhere you'd find a physical therapist, i.e. hospitals, schools, and private practices.
PT vs. OT: Similar Skills, Different Goals
When it comes right down to it, PTs and OTs have a lot of the same skills. Both careers require vigorous study and licensing, and occupational therapy students will be learning many of the same techniques as physical therapy students, and vice versa. The difference lies in the day-to-day of the jobs.
Physical therapists focus on physical injuries, testing a patient's strength, functional capacity, motor development, and mobility that allow a return to health and occupational therapists focus on designing activities and exercises that will help patients learn work and life skills within their physical or mental limits. In essence, physical therapists concentrate on having patients adapt to their circumstances to the best of their abilities, while occupational therapists modify the environment to the best of their abilities to accommodate their patients.
Both fields are constantly changing and expanding, with new opportunities available almost every day. If you're an occupational or physical therapist looking for a new challenge, speak to one of our recruiters today about travel positions for PTs and OTs.