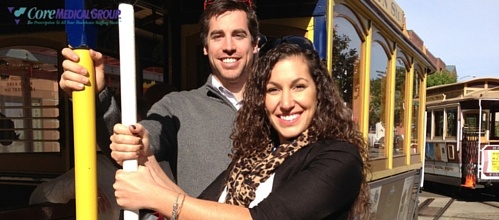 When a mutual friend introduced Anna and Josh, it was to help Anna learn more about working as a travel physical therapist. None of them imagined that Anna and Josh would end up married, traveling together as CoreMedical Group employees for over 5 years!
Anna didn't always know she wanted to be a physical therapist or a traveler. As an undergrad college student, she was majoring in theater, unsure of what exactly she wanted to do. But when a friend broke her shoulder, and Anna drove her to a physical therapy appointment, she discovered her calling and fell in love with PT!
As a graduate student pursuing her degree in physical therapy, Anna learned that travel physical therapy jobs were a career option for her and a mutual PT friend introduced her to Josh, who was traveling for Core at the time. Josh had pursued his career in physical therapy after growing up around it. His aunt is a physical therapist who owns several clinics, and Josh had grown up seeing the benefits of PT his whole life. He shared his experiences and insight with Anna.
"I decided to start traveling for financial reasons at first," explained Anna. "But I always loved traveling and wanted to see the world and try something new!"
About a month after their initial conversation, something new did pop up for Anna - Josh called her back and asked her on a date! And the rest is history – they've been together ever since!
So how does it work being a travel therapy family?
"We'll usually pick a location that we'd like to go to, and then work with our recruiter Josh to find two jobs in that area so that we can go together," Anna explained. They've been to the Bay Area of California, Cape Cod, and are now settled in southern Massachusetts.
With so many different types of PT positions and care settings available, Anna's experiences traveling have helped her develop a passion for home health care.
"Home health gives you flexibility and independence," she said. "And it keeps you on your toes. It's a much more medical approach to physical therapy and has really helped to strengthen my skills as a PT. You're often in seriously challenging positions and settings when you go into people's homes."
And even though Josh and Anna have bought a house and started a family, they don't intend to stop working for CoreMedical Group.
"I love contract work. We love Core and the Club CoreMed trip and plan to stick with them," Anna said. "We've recruited a ton of people to Core to join our team. Everywhere I travel I tell other PTs to switch to contract work and work with Core!"
If you're ready to give contract physical therapy work a try, connect with one of our recruiterstoday! We can help you find a position anywhere in the country!