Taking on a residency is an excellent way to accelerate the timeline from being a proficient practitioner to becoming an expert. Many physical therapists that have recently graduated, and students considering residency have a challenging time making the decision to do so because they don't know what its like. The Residency series was created to provide you a look at the whole picture - from the application process to going through residency, to graduating at the end.
This article is from Zaki Afzal; a physical therapist that is 80% of his way through his orthopedic residency. Below, Zaki provides a unique perspective into what it means to decide to take on residency, and what the program looks like while you go through it.
What made you decide to pursue residency training?
Entering PT school I knew I wanted to end up in the ortho/sports setting when it was all said and done. As I progressed through school and my clinical internships, I saw and interacted with many orthopedic clinical specialists that just seemed to have a much better grasp of the vast body of knowledge than me. Not only that but their confidence with which they made decisions about a patients plan of care inspired me to want to become a clinical specialist. That led me to pursue a residency. Not only is it the fastest method to becoming a certified specialist but it allows you to develop good clinical habits with the best frame of reference for correctness.
What residency program are you attending (or did you attend) and why?
I am currently 2 months away from completing a 1-year orthopedic residency at University of Michigan Health Systems in Ann Arbor, MI. There were many reasons for choosing this particular program, but I will only list the 2 major ones. First off, this program focuses on delivering more than the required amount of clinical mentoring and seeing as I just came from over 2 years of sitting in a classroom I thought I could develop more efficiently if I were able to learn something and then apply it immediately to the clinic. The second reason is the 6-month rotation treating spine patients almost exclusively. Throughout my schooling, I always found spine patients harder to manage than extremities and thought this was an excellent way to shore up any weaknesses in my clinical ability.
Can you give an example of a "typical" day in the orthopedic residency program?
A typical day in the residency would consist mainly of treating your own caseload of patients 1-on-1. Depending on the day there may also be a time slot for mentoring with your mentor's patient or a patient you are having trouble with. Some days also include a period of time where you can self-reflect and hear your mentor's feedback of your performance that week.
What is your typical case load in the orthopedic residency program?
The typical caseload is about 32-34 patients/week. The expected caseload for a fulltime therapist is 40 patients/week. All treatments are 1-on-1 and you have 1 hour for evaluations and 45 minutes for each return visit.
How much does the orthopedic residency program cost? (i.e. reduced salary or full salary but paying tuition)
You get paid 75% of the usual starting salary for a fulltime PT in this health system.
What opportunities have you or will you seek out after finishing the residency program?
I will most definitely be pursuing a manual therapy fellowship after the commencement of this residency in order to not only further develop my hands-on skills but to pursue mastery of clinical reasoning. I also gained a significant appreciation of the MDT approach during this residency and will be looking to be MDT certified within the next 2-3 years.
What have you gained from attending the program (knowledge, skills, etc…) that you may not have gained otherwise?
I have gained so much in terms clinical reasoning, exercise prescription, and manual therapy skills that I could not have gained if I had just started working after graduation. I have learned directly from clinical specialists that have been practicing at a high level for years so the learning in this residency blends didactic knowledge and clinical expertise wonderfully. But I think the absolute most valuable thing I have gained from this experience is what I like to call the "motivation shift". This is when your motivation shifts from being extrinsic to intrinsic. In school I was always worried about my grades and if other people thought I was smart, but seeing the way my mentors practice and continue to learn and develop really just made me want to become a better clinician to fulfill my own desires and just be better and what I love to do.
What advice do you have for students that wish to pursue a residency after graduation?
If you can afford it, then do it. This residency is filled with high-pressure situations at times but the people you work with are so welcoming that you sometimes forget that you're completing a residency. The way I see it, you are basically getting paid to continue your education. DPT school makes us safe and competent clinicians but a residency makes you a specialist and is geared towards you helping patients get better faster.
Bio: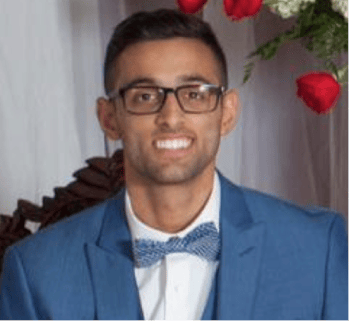 My name is Zaki Afzal and I am a physical therapist currently about 80% of the way through completing an orthopedic residency at University of Michigan Health Systems in Ann Arbor, MI in order to receive invaluable mentoring and opportunities to enhance my skills and patient outcomes. I obtained my CSCS while in PT school to further solidify my knowledge in working with the higher-level population. I have been out of school since May 2015 but have continued on a path of lifelong learning and I love every minute of it. I am a thinker, research junkie, avid lifter, and lover of all things PT and I guess now I'm a blogger too. You can check my blog out at PTLifelongLearning.Wordpress.com. You can also follow me on Twitter @ZakiAfzalDPT if you're into that kind of stuff.