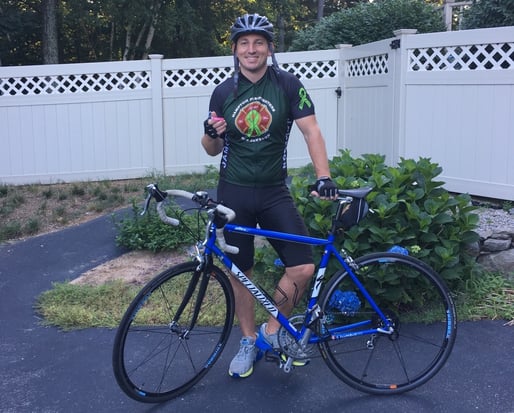 Can you imagine riding a bike almost 200 miles, across an entire state? That's what Josh, Core's Allied Health Division Manager, will be doing on August 6 and 7 when he participates in the Pan-Mass Challenge. The fundraiser raises money for the Dana-Farber Cancer Institute. He'll be riding in the bike-a-thon charity event to raise awareness for two New Hampshire families who have had a very difficult year.
The first is the family of Kyle Jameson, a Hampton, NH firefighter who lost his battle with non-Hodgkin's Lymphoma in May. "Team Jameson" is the group of family, friends, and firefighters who rallied around Jameson and his wife and son both during treatment and after Kyle's passing. Josh will be wearing his Team Jameson shirt during the ride.
"I road in the Pan-Mass Challenge last year in honor of Kyle, after meeting him and hearing his story," Josh explained. "This year, I'm riding in memory of him and to support his wife and son."
Josh will also be raising awareness for the brAVA Memorial Scholarship, in memory of Ava London Doiron-Frankland, a 7-year-old New Hampshire girl who lost her battle with cancer in June.
"I met Ava and her dads at a fundraiser at The Learning Path, the daycare Ava attended, and where my kids go now," Josh said. "I really want to raise more awareness for the scholarship fund in her memory."
Josh has been training for this undertaking since May. He bikes to a local Crossfit gym three times a week and wakes up early on Saturday mornings to get in a longer bike ride that ranges from 30 to 60 miles.
Participating in the PMC is also a major personal accomplishment for Josh. Since turning 30 and getting sober, he's made it a point to tackle a major challenge each year as part of his recovery. He's completed swimming, running, and rock climbing challenges so far. Biking the PMC was next on the list, and this year he'll be riding for the second time! Eventually, he plans to complete an Iron Man triathlon.
To learn more about Team Jameson, visit Team Jameson Remembers Kyle on Facebook.
Donations to the brAVA Scholarship can be mailed to Santander Bank, PO Box 32, Windham, NH 03087.
To donate to Josh's Pan-Mass Challenge fundraising and support the Dana-Farber Cancer Institute, visit PMC's website and search for "Joshua Bourdon" from Derry, NH.