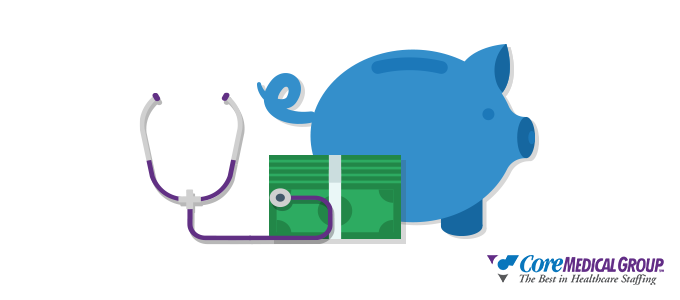 Starting your career as a traveling nurse but confused about issues like health insurance? Don't worry, health insurance for travel nurses can seem complicated, but it doesn't have to be.
As a traveling nurse it's important to know that you have options in relation to how you go about receiving insurance. You can either secure your own medical benefits or use your company provided insurance. Each option has its perks and which route you decide to go will be based on your own specific needs.
Let's take a look at those options:
Company Insurance Benefits
For most people, agency provided insurance is the best option.
With a company insurance policy, your coverage will continue without interruption for as long as you stay with the agency, and while premiums for company plans are typically around the same as private insurance, the coverage and deductibles are usually better.
Personal Policy
If you think you might switch agencies, or your company's insurance isn't as comprehensive as you'd like, you may want to consider a personal insurance policy.
Having your own personal medical benefits can help you avoid headaches (and paperwork) if you do decide to switch agencies and you can have as much or as little coverage as you need. Different agencies use different insurers and, as you know, no insurance company works with every doctor. If you are going through your company provided insurance you will most likely have to change insurers any time you move to a new agency. Also most insurance plans have deductibles that don't get carried over from one plan to the next, resulting in you paying a deductible several times over.
With a private nationwide health insurance plan you will never have a gap in coverage between assignments and won't have to deal with the complications of switching insurers if you move to a new agency.
Deciding on Health Insurance as a Travel Nurse
If you have a family and need to provide insurance for more than just yourself, you may want to consider a combination of the two options. Sometimes an agency will offer great insurance for your entire family, but some agency plans are not as comprehensive. In that case, the best route may be to take the company provided insurance for yourself and then get your family on their own private plan (or find an agency with a better benefits package).
Deciding on an insurance plan is no easy task, which is why it is important to weigh all of your options before deciding. Ultimately the best insurance option will vary from person to person, so it is important that you understand your own situation and choose the plan that best fits your needs.
CoreMedical Group is proud to offer our traveling nurses and therapists the best benefits package in the industry, including health insurance, dental, vision, free online CEUs, a 401K plan, and even pet insurance. If you're interested in becoming a CoreMedical traveling health professional, get in touch with one of our recruiters today.