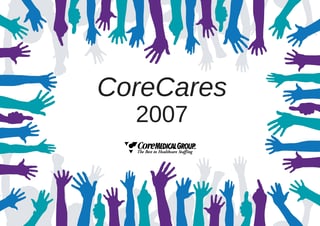 In 2007, CoreMedical Group held a bone marrow donation drive at the corporate office, created a memorial cookbook in honor of Karen Marie Circharo to raise money for women's heart disease, and gathered supplies for our soldiers during the holidays.
Stockings for Soldiers - Annual Holiday Donation
December 2007
CoreMedical Group selected Moore*Mart non-profit organization of Nashua, NH as our 2007 Holiday Charity. Moore* Mart began as a family effort to provide needed but unavailable supplies to our brother and his fellow soldiers serving in Iraq. Two years later they continue to supply soldiers in Iraq and Afghanistan with anything they need that will make their job a little easier. In fact, they have been so successful in their mission that the soldiers have said that they "Carry more supplies than Wal*Mart", and dubbed them "Moore*Mart".
Our company goal is to provide much needed supplies and miscellaneous items to 46 soldiers who were deployed from our NH National Guard on November 4, 2007. This unit was expected to be deployed until at least June of 2009. Our contact at Moore*Mart has informed me that this recent troop is the youngest group of individuals ever to be deployed by our state (highest # of 18 year olds).
Sisters to Sisters
October 2007
www.sistertosister.org
As a special memorial tribute to Karen Marie Circharo (1960-2007), a cookbook was compiled by friends, family and the staff at CoreMedical Group and published as a fundraiser, with all proceeds donated to benefit the prevention of women's heart disease to Sisters to Sisters non-profit organization. This book, "Delicious Memories of Karen," became available for sale early winter 2007 and continues to raise funds for women's heart disease each month.
The Caitlin Raymond International Registry: Bone Marrow Donor Drive
August 2007
www.crir.org
The Caitlin Raymond International Registry is a comprehensive resource for patients and physicians conducting a search for unrelated bone marrow or cord blood donor. The Caitlin Raymond International Registry (CRIR), a pioneer in the establishment of procedures and practices for stem cell donor search, is the oldest coordinating center for bone marrow, peripheral blood stem cell and placental cord unit search in the United States. Affiliations with more than 90 international registries and cord blood banks in 43 countries enables us to access nearly 6,700,000 donors and more than 210,000 cord blood units.
CRIR is a non profit organization of the UMass Memorial Medical Center in Massachusetts. CRIR was originally established in 1986 as a unit within the Division of Hematology-Oncology of the Department of Pediatrics at the University of Massachusetts Medical Center specifically as a coordinating center for conducting national and international searches for unrelated donors. Today, approximately 300 patients each month are submitted for search. A marrow donation is a terrific way to offer hope to the thousands of patients in need of an unrelated marrow or stem cell donor.
CoreMedical Group held a donor registration and collection site here at our corporate location for all of our staff who wished to become a donor. Some of our employee's friends and family also joined us on this day to become an active participating in the CRIR.