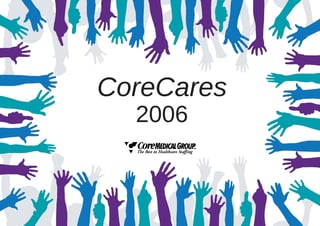 In 2006, CoreMedical Group supported Bridges, a local nonprofit that helps abused families. We also collected donations to send to our troops overseas.
Support The Troops
April 2006
CoreMedical Group began our donation with the hopes to provide a little comfort of home by purchasing and sending Girls Scout Cookies to a local solider. However, our staff went above and beyond and organized an event to collect much needed items for a local solider Sgt Peter Boisvert and his unit. Our staff collected items such as: Girls Scout Cookies, toiletries, magazines, books, snacks, hand sanitizer, socks, puzzle books, disposable cameras, chap stick, razors, candy, and so much more.
Bridges
December 2006
www.bridgesnh.org

Bridges is a non-profit organization that works with abused families. This organization is responsible for taking these families in, providing for their immediate needs and then assists with transitioning them into their own accommodations. In the past we purchased items for children and their families but because at Bridge's the families stay at the location is short lived, we will be donating money so that the charity can continue to exist and assist families who are in desperate need of help. Our donation will covered things such as: the plumbing bill or supplies (food, paper goods, toiletries, bedding, clothing, etc).