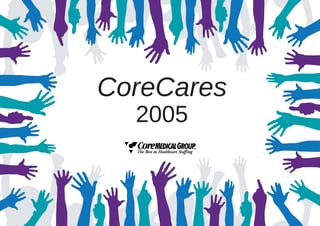 In 2005, CoreMedical Group raised money for the American Red Cross to support both the Hurricane Katrina relief efforts and the Tsunami recovery. We also continued a tradition of collecting donations for families in need with Ledge Street School in Nashua, NH.
American Red Cross: Help for Hurricane Katrina Victims
September 2005
http://www.redcross.org

In the aftermath of Hurricane Katrina, one of the most devastating hurricanes to hit land in quite some time, the employees of CoreMedical Group felt compelled to do something to help all of the people affected by this terrible tragedy. During the past two weeks we have seen almost nothing but the effects of this terrible calamity; mass destruction, loss of life, people living on bridges or in shelters shared with hundreds to thousands of others, and pets with no homes or owners. This list could go on and on but we all get the picture: these people need our help!

We are asking for donations to be made to the Red Cross and sent to our corporate office. We realize that situations are different for everyone so all that we ask is that you donate what you can and, as with our Leukemia and Lymphoma Society fund and the Tsunami Relief effort, CoreMedical Group will match each donation dollar for dollar.

We thank all of you in advance for your kindness and your generosity. It's truly wonderful to work with such a caring and giving group of individuals!
American Red Cross: Tsunami Relief Recovery
January 2005
http://www.redcross.org

A Message from our President/CEO:
As we mentioned briefly last week, all of us at CoreMedical are in awe of this terrible natural disaster and the havoc is it has reeked upon the millions that live in the region. Needless to say, we would all like to donate money to help aid the survivors and the Company is willing to match the sum total of all donations, dollar for dollar. There are a lot of generous, kind hearted people working at this company; this was just witnessed by our Operation Santa program. We also know that this disaster is coming on the heels of the holidays but unfortunately disasters can't be planned for a good time. We simply ask that you give what you can, for some that is a more than others but every dollar will be needed. The thing to remember is that you are giving, you are not standing by and saying "I wish I could do something to help", you are doing something to help. Your donation counts, regardless of the amount and your donation will double because CMG will match the amount.

Our objective is to provide the funds to an organization where the maximum amount will reach those who need it most; the survivors. We thank you in advance for your donation. We will tabulate the total donations made and match the total, dollar for dollar.

This is one of the most worthwhile causes we could consider for our charitable efforts. Many thousands of people have been left homeless and their lives devastated by this event. Many thousands of children have been left without parents and will need to be cared for long after the story leaves the front pages of the paper. Let's all do whatever we can - whatever that is for each of us - to make sure we've at least done our part. I know we'll all feel better; about ourselves, about each other, about humanity, for having done so.

Thank you for your generosity.
Armand L. Circharo, Jr., President/CEO
Operation Santa
December 1999 – December 2005

CoreMedical Group provided much needed items to our local communities through partnership with the Ledge Street School of Nashua, NH and our local social service offices. Each year Core Medical Group would receive a list of families and the needs and wants of each member of the family. Together, we were able to help make some happy holiday for these families.