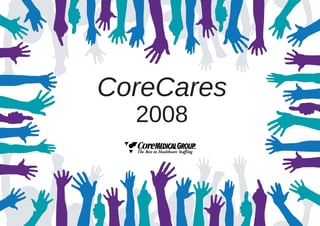 In 2008, CoreMedical Group donated to the Leukemia Lymphoma Society and raised money for Boston Children's Hospital through the Mix 98.5 Radiothon by donating time to man the phones.
The Leukemia Lymphoma Society - Light The Night
September 2004 - September 2008
http://www.leukemia-lymphoma.org/hm_lls
Julie's Core is our team that's helping The Leukemia & Lymphoma Society to defeat blood cancers.
Light The Night is The Leukemia & Lymphoma Society's nationwide evening walk to commemorate lives touched by cancer and to raise awareness of blood cancers. Anyone can participate. Children, adults and seniors are all welcome. This is a casual walk with no fitness requirements. Walkers carry illuminated balloons. Participants carry red balloons and our survivors carry white balloons as a symbol of hope. Participants can also carry a gold balloon if they are walking in memory of someone who lost their life to a blood cancer. Every 10 minutes, another life is lost to blood cancer--an estimated 52,310 deaths in 2007.
Funds raised support our mission to cure leukemia, lymphoma, Hodgkin's disease and myeloma, and to improve the quality of life of patients and their families.
The Boston Children's Hospital, Mix 98.5 Radiothon
March 2008
www.childrenshospital.org
Over the past 4 years, thousands of MIX 98.5 listeners have tuned in to the annual 2-day broadcast to hear inspiring stories about Children's Hospital Boston and pledge their support. Their amazing generosity – more than $2.4 million so far – has allowed the hospital to help countless kids and families.
CoreMedical Group organized a team of volunteers to volunteer 3 hours of their time to answer phones during the 2008 Mix 98.5 Care for Kids Radiothon on Thursday, March 27th and Friday, March 28th. The 3 hours shifts started as early as 6am and ended around 7pm. As well as volunteering time to answer phones Core Medical Group also provided cash donations from our staff.
Note: Mix 98.5, now Mix 104.1 (as of 07/2009)