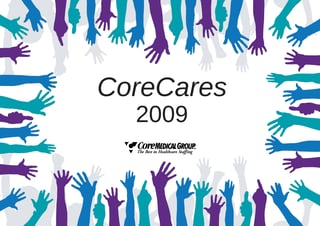 In 2009, CoreMedical Group collected Coats For Kids, participated in a bone marrow drive to help a 10 year old boy named Drew, helped the MSPCA in Methuen, and helped make a magical prom night with The Paul Center.
Coats for Kids/Anton's Cleaners
Quarter 4 - November 2009
www.Antons.com/cfk
The mission of Coats for Kids is simple - anyone in need of a coat will have one. Since the program began in 1994, Anton's Cleaners has collected, cleaned free of charge and distributed over 562,000 gently worn winter coats to men, women and children who would otherwise be without one. The program receives invaluable support from collection, promotional, supporting and distribution partners as well as individuals.
Donate for Drew & Bone Marrow Drive with Be A Match
Quarter 3 - June 2009
www.marrow.org
Core Medical Group has chosen to help a local family with their fight against Aplastic Anemia. Drew is a 10 year old boy who was diagnosed with Aplastic Anemia in June of this year. Drew is an energetic ten year old. His happy personality and smile always brings joy to his family and friends. Like many boys his age he enjoys video games, cartoons, soccer, and playing with his friends and his two older brothers.
As you can only imagine his life was turned upside down. However, despite the shock of his sudden illness, numerous needles and IV's, and constant hospitalization, Drew has kept his attitude positive, his spirits high, and has met all his challenges with his infectious smile. He is a fighter, and his courage serves as the inspiration that helps guide his family toward a cure.
MSPCA: Nevins Farm, Methuen, MA
Quarter 2 - May 2009
www.mspca.org
Some Americans are struggling to feed themselves and their human family members; it's easy for pets to fall by the wayside. US animal shelters are reporting record numbers of surrendered pets, and people nationwide are finding it increasingly difficult to put food on the table and in the dog bowl.
The MSPCA-Angell is a national and international leader in animal protection and veterinary medicine and provides direct hands-on care for thousands of animals each year. Founded in 1868, we are the second-oldest humane society in the United States. Their services include animal protection and adoption, advocacy, humane education, law enforcement and world-class veterinary care. The MSPCA-Angell is a private, non-profit organization. They do not receive any government funding nor are they funded or operated by any national humane organization. The MSPCA-Angell relies solely on the support and contributions of individuals who care about animals.
Prom Night 2009 & The Paul Center
Quarter 1 - March 2009
www.thepaulcenter.org
Remember your prom night? Let's help create those unforgettable memories for developmentally challenged individuals. The Tewksbury Knights of Columbus and the Tewksbury Country Club will be hosting Prom 2009 for developmentally challenged individuals, ages 15-35 on May 20th, 2009. Prom night will be complete with Dinner, Music, Dancing and FUN for ALL! Without these organizations hosting this event many of these individuals would not otherwise ever attend a prom. The Tewksbury K of C and the Tewksbury Country Club are in need of donations of used but in good condition evening wear. Anton's Cleaners will be providing free dry cleaning for all articles provided. Donations of hair services and flowers will also be provided to the attendees by local companies as well.
So, dig deep in your closets and part with the past holiday party dresses and bridesmaids dresses by donating them to a great cause!