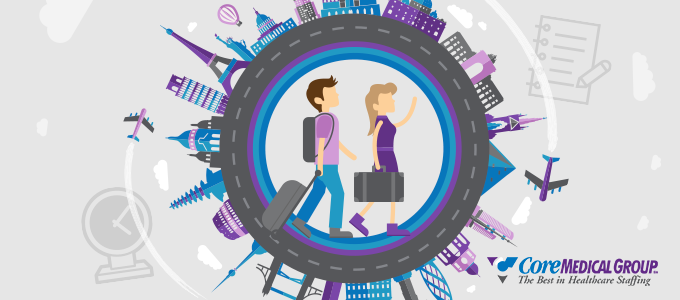 We're coming to the end of another year and you know what that means: it's time for New Year's resolutions. Resolutions can be a great way to improve your quality of life, but only if they're attainable and relevant to you, your lifestyle, and your career. We've crafted ten resolutions for 2017 with traveling physical therapists in mind and we want to hear from you! What are your New Year's resolutions?
New Year's Resolutions for Travel PTs
1. Use your travel time wisely. As a traveling PT you spend a lot of time en route. No kidding, right? The thing is, travel time is often considered wasted time and it doesn't have to be! Whether you're flying, driving, taking a bus, train, or horse-drawn carriage to your next contract, think about using that time to learn a new language, catch up on the local news in your new home, or get started reading or listening to that book you haven't finished yet.
2. Get the most out of each contract. Before you head off to a new location, do some research and make yourself a list of all the things you'd like to do and see while you're there: sightseeing, activities, restaurants, etc. That way you'll be less likely to miss out on something, and can take full advantage of the perks of travel work.
3. Take one contract that scares you a little. We mean scary in a good way, of course. It could be in a location that's farther away than usual, or in a different climate, or at a larger facility. The point is to take a chance. One of the great things about being a travel PT is you can take that chance without making a long term commitment.
4. Volunteer. There are always opportunities to volunteer, whether through the facility you're currently working in or, if you're lucky, through your recruiter. If you don't have a ton of free time, consider helping out in other ways, like donating blood.
5. Learn to enjoy the traveling. Obviously you love to travel, or you wouldn't be in this job, but generally the most enjoyable part of traveling is getting to the destination. We're talking about enjoying the journey. How? By becoming a better traveler! Yes, this is the year you finally figure out how to pack your carry-on bag so you can find everything when you land. It's the year to organize your iTunes and subscribe to that podcast everyone's been telling you about. It's the year to invest in a new backpack or a bigger suitcase and finally buy one of those travel pillow things. It's the year to enjoy being a professional traveler.
6. Contact an old friend. Social connections are incredibly important, particularly for travelers. We all have those friends that we connect with on Facebook every now and then, meaning to chat more or get together, but it never actually happens. When you take your next contract, check to see if you know anyone in the area and reach out to them! A cup of coffee or glass of wine with an old friend can make a new contract feel like home. If you're adventuring further away from your friends and family, use apps like Skype, Google Hangouts, or the iPhone's Facetime for a more personal tech connection.
7. Make a new friend. Yes, you may only be at that contract for a few months, but that doesn't mean you shouldn't socialize. Resist the work-home-work hermit life and go meet some people! Hang out with your new colleagues after your shift is up or sign up for a class in town and be introduced to a new network. You never know where you'll find someone who really gets you, and chances are you'll find a great group of travelers who are seeking the same kind of connection.
8. Take your own advice. As a PT you're constantly giving other people advice about how to take care of their bodies, but between work, traveling, and other responsibilities it's sometimes hard to take care of your own. Make next year the year you really listen to yourself—and your body. It could mean finding time each day to stretch or use a foam roller, or strategically packing your yoga mat and running sneakers so they're the first things you unpack when you get to a new contract. Whatever it takes, do things to remind you to take care of yourself as much as you take care of your patients.
9. Learn something new. This is a classic resolution, but it makes a lot of sense for travel PTs and travelers in general. Think about it: You have the ability to go to new places as often as you choose and learn something that might be particularly great about each location. Want to learn to ski? Take a contract in Colorado. Always wanted to try surfing? We hear Hawaii is beautiful this time of year.
10. Make career moves that work for you. It's easy to think that your experience as a travel PT will be completely different from contract to contract, and while that's partially true, there are things within your control that can make a huge difference in your professional experience overall. Working with the right recruiting company, for example, can not only help you avoid contracts that are a bad fit, but can include benefits that make life as a traveler even better than it already is.
Learn more about how to make the most of your career as a travel PT by clicking the image below.