Working with a healthcare staffing agency can offer several benefits for healthcare professionals. Here are some of the advantages of utilizing the services of a healthcare staffing agency: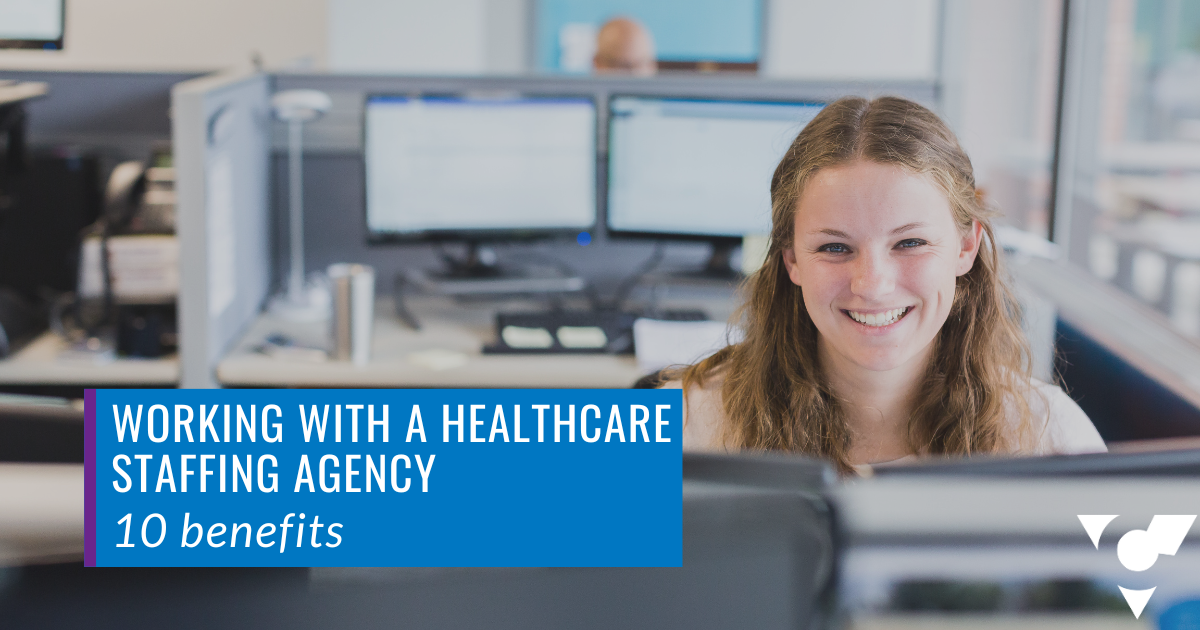 Access to a Wide Network of Opportunities: Healthcare staffing agencies often have extensive networks and partnerships with various healthcare facilities, including hospitals, clinics, and long-term care facilities. This provides healthcare professionals with access to a wide range of job opportunities that may not be readily available through traditional job searches.


Faster Job Placement: Healthcare staffing agencies specialize in matching candidates with suitable positions, which can expedite the job search process. This is particularly beneficial for healthcare professionals seeking immediate employment.


Flexibility: Healthcare staffing agencies offer various types of work arrangements, including temporary, contract, per diem, and permanent positions. This flexibility allows healthcare professionals to choose positions that align with their career goals and lifestyle preferences.


Reduced Administrative Work: Staffing agencies handle much of the administrative work associated with job placement, such as credential verification, background checks, and scheduling interviews. This can save healthcare professionals valuable time and reduce the stress of job hunting.


Support in Licensure and Certification: If a healthcare professional needs to obtain or renew licenses and certifications, staffing agencies can often assist with this process and ensure that all credentials are up to date.


Competitive Compensation: Healthcare staffing agencies can often negotiate competitive compensation packages on behalf of their candidates, including salary, benefits, and incentives. This can result in more favorable financial arrangements for healthcare professionals.


Diverse Job Opportunities: Staffing agencies offer healthcare professionals the chance to work in different settings, such as acute care, outpatient, or specialty facilities. This diversity can help professionals gain valuable experience and broaden their skill set.


Job Security: Healthcare staffing agencies can help healthcare professionals find positions that match their long-term career goals and provide job security in the ever-changing healthcare industry.


Relocation Assistance: For those willing to relocate, most healthcare staffing agencies can assist with the transition, including finding housing and handling logistics.


Exposure to Different Work Cultures: Working in various healthcare facilities through a staffing agency allows healthcare professionals to experience different work cultures, which can be enriching and educational
Bonus: CoreMedical Group provides a mobile app that allows our users to seamlessly explore career opportunities and easily submit job applications. What sets us apart is our unique alert system, you will be promptly notified of relevant job openings. Additionally, our exceptional recruiters at CoreMedical Group are actively engaged in your journey, closely monitoring your application activities and readily available to address any inquiries

Our recruiters' expertise extends beyond conventional job searching. They go the extra mile to understand your aspirations, qualifications, and career goals. With this knowledge, they not only connect you with suitable positions but also find exclusive job openings tailored to your profile. The guidance and support our recruiters offer will help you find your dream job, making your job-seeking experience a personalized and rewarding one. While other companies may offer self-service job search apps, we distinguish ourselves by offering the feature of having your own recruiter, ensuring you have access to a real person throughout your job search.

We should also mention that CoreMedical Group has a loyalty bonus program known as Club CoreMed.

Club CoreMed awards you points for travel and permanent nursing, PT, OT, and SLP candidate referrals, placements, and hours worked per travel assignment. Points are redeemable toward our exclusive resort vacation packages! Who doesn't want to earn a FREE vacation?



Overall, working with a healthcare staffing agency can be a valuable resource for both healthcare professionals and healthcare facilities, providing a bridge between job seekers and employers while offering support, flexibility, and a wide range of opportunities!