Calling all aspiring traveling healthcare professionals: This blog is the first of a two-part series tailored just for you!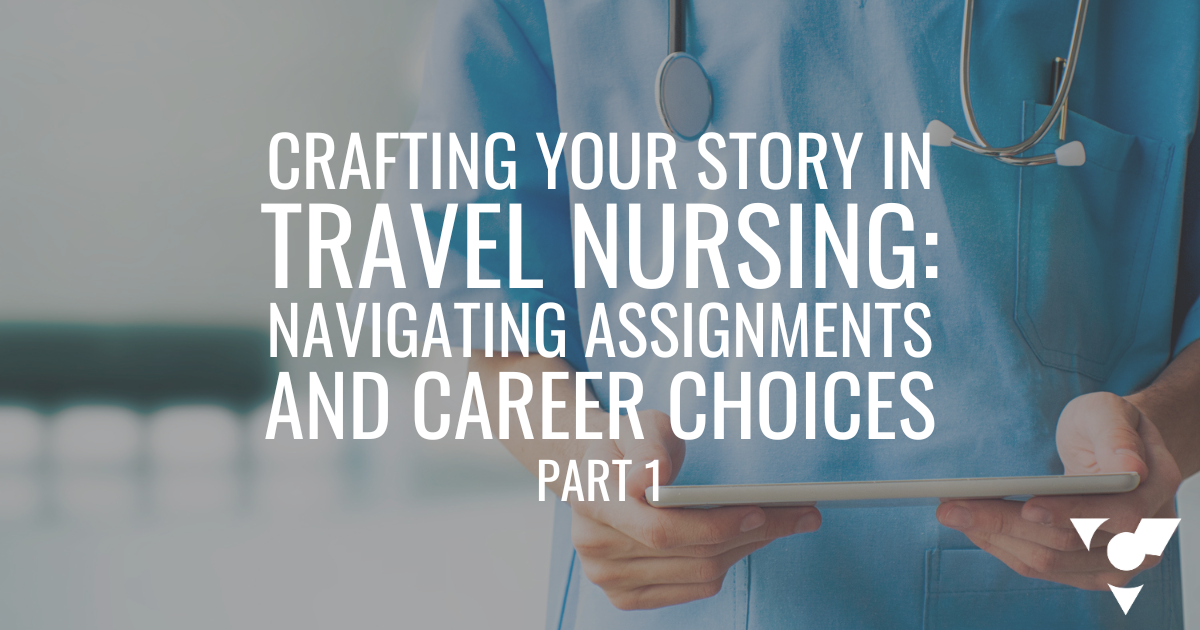 Have you ever considered the possibility that your always-on-the-move vibes and hard-earned nursing credentials might combine for the career adventure of a lifetime?
In the fast-paced, exciting, gratifying and sometimes-chaotic world of travel nursing, these two facets of your being do more than just coexist—they create a dynamic pathway paved with rich opportunities, life-changing experiences, and an unforgettable life story you'll love living.
Travel nursing is where your invaluable skills meet diverse cultures, challenging and nuanced healthcare settings, and inspiring and motivating patient stories—all coming together to create a wholly unique experience that's as moving, powerful, purposeful, and dynamic as you are.
All of that awesomeness aside, the journey through varied assignments and locations comes with its own set of puzzles to solve.
How will you choose the right assignments that not only fuel your professional growth, but also bring about your "travelcore" era?
How will you ensure that every new city or town becomes more than just a workplace, but a bold and exciting chapter in your story?
How do you know which agencies to trust, and which are less interested in creating a safe, supported, and amazing experience for you?
Navigating these questions requires more than just awareness—it calls for a roadmap drawn from experiences, insights, and a deep understanding of the highs and lows of life on the road.
And that's where CoreMedical Group comes in.
With more than 25 years of living and breathing travel nursing, we've witnessed the challenges, celebrated the triumphs, and understood the subtleties that come with a career on the move. Our journey has been shaped by being the industry leader and trustworthy ally to healthcare professionals like you—those with the confidence and drive to serve in a variety of care settings and continuously seek personal and professional growth. Travel nursing careers serve up these experiences that expand skills, hearts, and worldviews.
In the first blog of this two-part series, we're sharing stories from our journey, insights from our experience, and tales from the front lines of travel nursing. It's a peek into how strategic choices, continuous learning, and picking the right assignments can not only shape your career, but also enrich your life story with "Core memories" to last a lifetime.
Pro-tip: If you're taking the first step into this vibrant sphere and want to grasp the essentials, don't forget to grab The Ultimate Guide to Travel Nursing.
Selecting Assignments with a Focus on the Future
Embarking on a travel nursing career is not just about choosing your next destination and making sure you understand your housing options—it's about choosing experiences with intention and curating your own professional growth.
Picture this: Every new location, facility, and patient demographic is a chapter in your career story, offering you unlimited and diverse learning opportunities and challenges to conquer. Choosing your own adventure goes beyond a cool city or a friendly town—it's about aligning each step with a strategic focus on the future you want.
Real Life, Real Decisions: Jenny's Story
Nothing makes a point better than a story, and Jenny's is a great example of the power of strategically choosing travel nursing assignments. Read on to learn about this seasoned travel nurse who found herself at a career crossroad.
Jenny, an RN with a specialization in surgical procedures, stood at a professional crossroads. She had two distinct OR assignment options: one in a bustling, high-tech surgical suite of a metropolitan hospital and the other in a smaller, more personalized OR setting of a rural community hospital.
The metropolitan hospital promised exposure to cutting-edge procedures, a dynamic team of renowned surgeons, and the electric energy of city healthcare. Meanwhile, the rural community hospital promised a closer-knit surgical team, a chance to be more deeply involved in each patient's journey, and the opportunity to play a pivotal role in a community that relied heavily on its local healthcare providers.
Drawn to the prospect of making a significant impact and fostering deeper patient relationships, Jenny chose the rural community hospital. Here, she not only honed her surgical skills but also forged lasting bonds with her team and patients, enriching her career in ways she hadn't anticipated.
Through Jenny's journey, we are reminded that in the realm of healthcare, choices aren't just about the technical skills one can acquire. It's also about the communities we serve, the bonds we forge, and how these experiences weave into our broader career and personal narrative.
Whether it's advancing skills in a high-tech, fast-paced environment, or embedding yourself in a community to provide personalized, multifaceted care, each assignment should build upon and align with your career trajectory and the big dreams you no doubt have for your future.
Ok, Cool. But … How?
Consider these factors to ensure each assignment propels you forward, enhances your skills, experiences, and professional journey:
Skill Development: Opt for assignments that allow you to enhance existing skills or acquire new ones, ensuring a continuous climb up your career ladder.
Facility Type and Size: Different facilities, from large, bustling hospitals to smaller rural (and often, underserved) clinics, provide varied experiences. Understand which setting will offer you the precise growth or change you want.
Specialization Opportunities: Choose locations that allow you to work in your area of specialization, broadening your professional repertoire.
Networking Potential: Engage in assignments where you can connect with professionals who can be pivotal in your career, offering insights, mentorship, or future opportunities.
Cultural Exposure: Embrace locations that immerse you in new cultures and patient demographics, enriching your cultural competence and enhancing your ability to provide holistic and inclusive care.
Alignment with Personal Goals: Ensure that your chosen assignment also caters to your personal aspirations, whether it's exploring new locales, lifestyle preferences, or work-life balance.
Contract Clarity: Ensure you understand the contract, the expected work hours, and any additional responsibilities that come with the assignment.
Financial Assessment: Consider the financial aspect, including pay, benefits, and the cost of living in the location, to ensure it aligns with your financial goals.
The Value is in the Experience—Not Just the Outcome: After you've done all of that, know this: Travel nursing requires self-efficacy as well as the right expertise on your side. But at the end of the day, you won't know with 100% certainty what the assignment offers until you're in the thick of it. So, make sure that, in addition to doing your homework and preparing yourself for some variables, choose to work with a reliable, reputable, and responsive travel nurse staffing agency to ensure you have the best and safest experience possible.
As you ponder these points, picture how each assignment shapes not just your present, but lays the groundwork for a future that's aligned with your aspirations.
And remember, the passionate, dedicated, and fun team at CoreMedical Group is here to help you navigate these big decisions and can help ensure that your journey is rewarding in all of the ways you deserve.
Laying the Foundation of Your Travel Journey
As you consider these factors, visualize how each assignment shapes not just your present, but lays the foundation for a future in sync with your aspirations.
Remember, the dedicated team at CoreMedical Group is on hand to assist you in navigating these significant decisions, ensuring your journey is as rewarding as you deserve. Stay tuned for our next blog where we'll dive into continuous learning, striking a balance between work and travel, and optimizing your journey with CoreMedical Group. Until then, happy travels and informed choices!