CoreMedical Group's healthcare recruiters, support staff, and management have worked hard to create a desirable company culture. The ability to earn a free all-inclusive vacation, uncapped earning potential, and real-world benefits are just a few of the perks of working at Core. Keep reading to learn a few more reasons why medical recruiters love working at CoreMedical Group.
Work Hard, Play Hard
"The culture here is like nothing I've experienced with any other employer," says Kimberly McAuliffe, an Account Executive in our Travel Nurse Division. "CoreMedical Group is the definition of a 'work hard, play hard' environment, which is motivating and exciting, because we never know what's coming next!" From our game room, where we host competitions like our "Summer Shuffleboard Showdown," to the unlimited earning potential for our healthcare recruiters, we seek out all aspects of success.
The Core Culture
Our staff is carefully selected to create a company culture you won't find anywhere else. From our administrative staff to our tenured management, we stand behind our Core Values of Connecting People, Improving Lives, and Giving Back to better serve our local and global communities.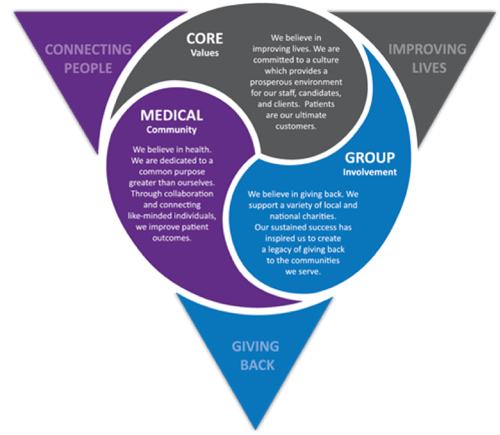 We believe in building strong personal relationships within each division – and the company as a whole. From team lunches and nights out in Boston to our annual Fun In The Sun cookout, we want to get to know you individually and help you thrive as a healthcare recruiter.
Free All-Inclusive Vacation
Did we mention our free, all-inclusive vacation called Club CoreMed? As part of our loyalty incentive program, we pack up our luggage and bring our travel nurses and travel therapists to the Caribbean each year. The best part? All of Core's employees have the ability to earn this trip, too! You can spend a week in the sun at a luxury resort on Core's dime, taking adventurous excursions or relaxing with a cocktail poolside. Whether you're a recruiter meeting placement goals or you're an operations staff member who has been nominated by your peers, everyone gets a shot at Club CoreMed.
Unlimited Personal and Professional Support
When you become a part of the CoreMedical Group team, you receive the tools and resources necessary to become a great medical recruiter. Core has no shortage of supportive peers and management to encourage and reward your successes. As Travel Nurse Recruiter Katelyn Harris explains, "From the very beginning, my managers and colleagues were incredibly helpful, supportive, and motivated. I've made valuable friendships with both coworkers and my travelers, and always look forward to coming in to work in the morning because of them!"
Continuing education and professional development are another way in which CoreMedical Group keeps moving forward. Changes in the healthcare field bring adjustments to how healthcare recruiters match nurses and therapists with their ideal jobs. To stay on top of new tech and methodology in both recruiting and healthcare, our healthcare recruiters partake in on and off-site training and can receive reimbursement for continuing education opportunities.
Real World Benefits
The support doesn't just come from your colleagues and management. When you work here, you'll have access to a comprehensive collection of benefits. We offer our medical recruiters an uncapped salary, flexible scheduling, and day-one benefits like health, dental, and vision insurance. Core's Manchester, New Hampshire offices have a game room and gym on site, and we are always launching new health and wellness initiatives to ensure our team members are pursuing their best lives.
---
Does this pique your interest?
Contact Us Today, and Be Sure To Click on the Link Below!