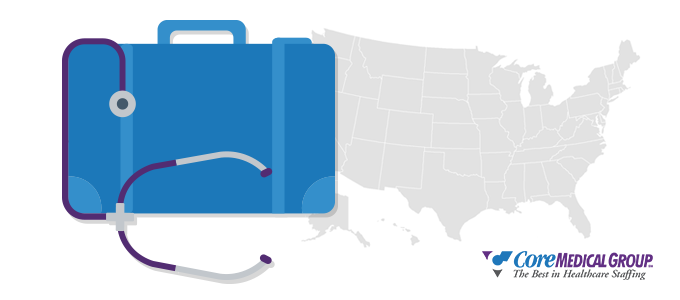 When you hear the phrase "traveling nurse" do you picture one of those doctors from an old western film that always carries a little leather bag full of medical supplies and shows up just in time to deliver really bad news?
Well, being a traveling nurse means more than just carrying your stethoscope around with you everywhere you go, waiting for a patient to call upon you (although let's be real, we know you keep one in your car). It's a career, and a great one at that.
What is a Traveling Nurse?
A traveling nurse is a nurse hired to work at a location for a limited amount of time, usually 13 to 26 weeks. Travel nurses have the flexibility to choose between available positions in different locations, and earn competitive wages while doing it.
Why are Travel Nurses Needed?
Nurses are always needed, and the nursing population is not evenly spread around the country, so some areas fill the need with temporary contract positions.
One of the best parts about being a travel nurse is that you can move between these areas as often (or not) as you like. While many people do one job in one place for several years before moving on, travel nurses have the freedom to practice wherever they're needed.
Many travel healthcare companies also help nurses find permanent placement, so if you fall in love with a particular area while on temporary assignment, you can work to stay there after your contract is completed.
The Logistics of Being a Traveling Nurse
When you think about this life on the road, you might be picturing living out of your car, driving from job to job with a lot of freedom but not much else, right? Wrong. Travel and living arrangements are generally included in a travel nursing contract, so you don't have to worry about finding temporary housing or paying fees for breaking a lease.
What you will need to do is make sure you're licensed to work in the state where you're taking a position. Generally travel nurses will accept a position 2-4 weeks before the contract actually begins, giving you time to iron out the details.
There is also the Nurse Licensure Compact (NLC), which allows nurses to have one multistate license, with the ability to practice in both their home state and other compact states—of which there are currently 25. As more states enact NLC legislation, the process of travel nursing will become even easier.
So How Can I Become a Travel Nurse?
In order to become a travel nurse, you'll need to find a nursing recruiter or placement company—someone to help you find the right contracts at the right times.
The right recruiter can also help you with licensing requirements, housing, and other logistical issues.
Interested in learning more about a career in travel nursing? Check out our FAQ here or get in touch with one of our recruiters today. We'd love to help you find your next adventure.