If you're reading CovalentCareers Resources, you're probably either a prospective student, in school and paying a lot of money to learn, or a brand new OT looking for guidance.
Wherever you are in your career as an OT, the ultimate goal is to be a proficient occupational therapist. So after the rat race of getting into school, passing the NBCOT, interviewing for a job, and accepting, you finally get to work.
And with that, you get your first paycheck.
So, what should you do? And how do you plan for all the other paychecks to come?
In this article, we'll give you the skills, tips, and tricks to be financially successful no matter what your goals are. For new grad occupational therapists, this includes:
Budgeting
Saving
Paying your debt
Investing
Insurance
We didn't choose occupational therapy to be rich. If that was our goal, we probably would have chosen to be physicians or to work on Wall Street. We chose OT because we love helping those with injuries or disabilities return to their everyday activities. We know how empowering and truly rewarding it can be to help people be independent.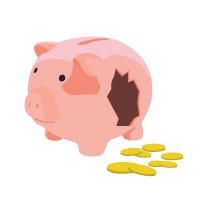 But just because we chose a path to help others, that certainly doesn't mean we shouldn't take care of ourselves. It's important to understand personal finance and its impact on our lives. It can be the difference between exploring our passions versus a job that makes us want to stab our own eyeballs!
Think about your goals and dreams. Do you want to retire early? Travel? Open your own clinic? These goals affect how we save and spend our money. The way you handle your money now definitely influences your future and freedom to pursue your life down the road.
Disclosure: We aren't CPAs and cannot guarantee all information about taxes or investing. Be sure to double check with a certified professional to answer all of your questions.
Looking for more ways to save? Compare student loan refinancing rates with this tool from our partners at Credible: