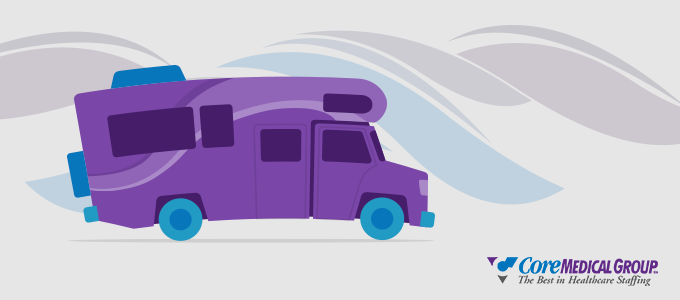 Traveling in an RV is a great way to see the country with all the comforts of home - a mobile home - at your side. As with travel nursing, those who hit the road in an RV are explorers, carefully selecting their next career moves with actual moves! Whether it's for sun and surf or snow and skiis, traveling in an RV as a travel nurse are more than just fun—they're the perfect combination.
There are a few things you'll want to keep in mind before hitching up your RV and setting out on the journey to your next contract. For those who are ready to go, we've compiled the following list of tips for travel nursing with an RV just for you.
Tip 1: Find the Right RV
If you haven't traveled by RV before or you have but don't own one yet, you'll want to make sure you choose the right one for your nursing travels. Motorized RVs are generally defined by three classes: class A, B, or C. There are also trailer and pop-up options.
Class A RVs are the largest options, and the most like a normal apartment. Class B and C are smaller, but depending on the design can still likely house two people (if you don't mind close quarters). You'll want to determine how much space you need, your budget (of course), and just how much vehicle you're comfortable piloting before you purchase.
There are also other considerations, like RV insurance. The larger the vehicle, the larger the insurance bill, generally. Plus, you'll want to look into where you'll be parking it, but we touch on that below.
Tip 2: Make Sure You Can Park Near Your Contract
Parking your RV is one of the most important details to take a peek at before diving into travel nursing, and the parking spots may be farther away from your facility than a traditional apartment, but it doesn't mean you can't take city contracts if you're travel nursing with an RV!
There are lots of places you can park an RV! RV parks and campgrounds will usually charge a parking fee based on the size of the RV but they are readily available and often offer some means of security for your mobile stuff. This just means you'll have to do some research to determine where you can settle in for a while.
You should also keep in mind how exactly you will leave your RV head back and forth to work. Are you traveling with another car, a bike, or do you plan on taking public transportation? These are important to consider before any purchases are made or contracts are signed.
Tip 3: Be Conscious of Weather
Travel nursing with an RV doesn't limit you to warm weather contracts—although that might be your style—but you should make sure both you and your vehicle are prepared before tackling a contract in a colder climate with an RV.
You'll also want to check the campsite availability, and the weather report for the area you're headed to, as some sites close as early as September or October when the cooler weather moves in.
Tip 4: Take Advantage of Tax Deductions
Using an RV instead of the traditional housing options for travel nursing can also change up your tax paperwork a bit. It's best to consult with your accountant (or even recruiter) on what items could be deducted. You may be able to deduct property taxes, interest, even utility and even lot rental costs!
Whether you ultimately decide that travel nursing with an RV is your kind of adventure, or end up opting for the more traditional housing option, travel nursing is an incredible and rewarding career opportunity. Learn more about how to become a travel nurse by clicking the image below.