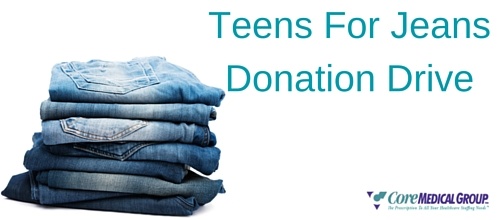 *Blog originally published on 6/21/19 and updated on 5/17/21
To kick off 2016, CoreMedical Group participated in the annual DoSomething.org Teens for Jeans drive. Our employees brought in gently used and new jeans to donate to homeless youth in our area. 
Jeans are one of the most requested items among homeless teenagers. The DoSomething jeans drive organizes the largest youth-led denim drive, and they've collected millions of pairs of jeans for youth in homeless shelters for local homeless shelters across the country. With over a million young people experiencing homelessness each year, our jeans donation drive had a huge impact in helping teens feel a sense of normalcy during this difficult time. Nationally, the drive collected 172,030 pairs of jeans, with 54,733 participants!
Our employees collected over 630 pairs of jeans during our January collection drive!
To do this, the CoreMedical team made a plan of action. We put out collection boxes in key areas throughout the office, sent out informational emails encouraging employees to participate and donate, and established goals and a timeline for collecting the jeans throughout the month of January.
The boxes and boxes of jeans we gathered were donated to local homeless shelters. Our team researched organizations in the area that would distribute the jeans and found two great places. Ruth's House, located in Haverhill, Massachusetts, has a mission to provide "clothing and employment training opportunities to individuals and families in need." The Lazarus House is located in Lawrence, Massachusetts, and it aims to open doors out of poverty and "restore dignity and self-respect to empower guests – poor, underserved and homeless individuals and families." Both organizations are just over the state line from our office in Salem. We are grateful to have the opportunity to provide clothing to our community and support great non-profits in the area.
Each quarter, CoreMedical Group supports a local organization through our CoreCares initiatives. If you're interested in hosting your own Teens for Jeans drive, you can find information here.