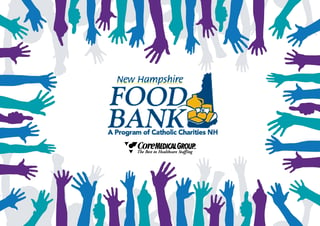 CoreMedical Group has been supporting local and national organizations as part of our quarterly charity drives for over ten years. And we've been supporting the New Hampshire Food Bank for almost that entire time.
The New Hampshire Food Bank has been helping fight hunger in New Hampshire since 1984. They deliver non-perishable food, fresh produce, and meals to over 400 food agencies across the state of New Hampshire. With food insecurity impacting almost 140,000 people across our home state, Core has always felt it is important to support this organization.
Core has held 11food and donation drives that benefit the New Hampshire Food Bank, beginning in 2007 and continuing to the present. It's a charity that we regularly support as part of our company-wide initiatives and has also been a popular choice for employees personally when they choose organizations to support.
Our most recent donation drive, held during the 4th quarter of 2015, generated $5,478 and had an employee participation rate of 94.12%!
To donate directly to the New Hampshire Food Bank and find out more about how they help people across the state, visit www.nhfoodbank.org. The virtual shopping market makes it easy to donate items in need directly from your computer!