Alex Engar, PT, shares his story on how he created a digital marketing company and established a non-clinical career for himself in the field of physical therapy. Engar is relatively new to the industry, having graduated in 2017. His group, Healthcare Digital Marketing, along with Co Founder Will Boyd, already has a Facebook page with nearly a thousand followers. The organization focuses upon educating healthcare students and professionals on the basics of digital marketing, approaching the topic in a very concrete, step-by-step way. For example, Alex's group provides detailed advice on how to most effectively set up Facebook ads.
Alex's main focus is social media marketing and paid advertising. "Digital marketing is just putting your message out there, online, in a way that regular people can relate with," he says. "Good digital marketing represents physical therapy in a way that's very understandable to people."
Alex's story proves that recent PT graduates need not assume that clinical work is their only option. In fact, Alex has managed to leverage his background as a PT into a viable career outside of a clinical setting. "If I'm helping PTs market, I can talk to them like no one else because I'm a PT."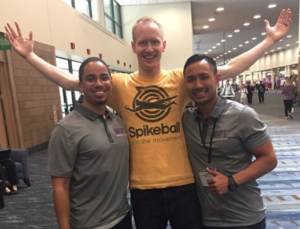 "A lot of people think that they need to fit in to a specific box when they graduate," he says. However, in his opinion this attitude is misguided. "We all have the power to create whatever it is we want within our career." Alex himself is a great example of this. "My entire income stream that is replacing a full-time PT income comes from Facebook."
His expertise in digital marketing has taught Alex how healthcare professionals can effectively put together advertisements that generate responses. He's developed a detailed strategy for attracting customers into the clinic, one which includes a seamless step-by-step process. First, people will see your ads. Then, they will be directed by the ads to your website. Once they are here, they are much likelier to take the next step, which is to go to the clinic itself.
He recommends that people interested in using digital marketing to expand their business start on Facebook. "Treat your personal Facebook page as if it's your digital business card." He also recommends focusing on your interests. "If you want to earn income online, you have to be solving a specific need. So find the need!"
Confidence is also key. "To be an expert … you just need to be two steps ahead from whoever you're teaching." Also, he says, don't be afraid of doing something that's already been done, because you can always bring a unique perspective to it. "Even though someone else is doing it, do it your way."