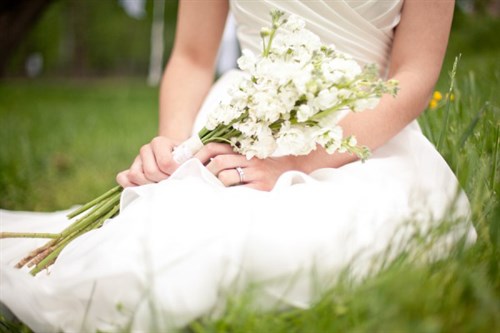 Congratulations to the winner of our Nurses Week Contest, Lori S.! Lori shared an amazing story with us about how she helped save a bride's life on her wedding day! The kicker? It happened on the day of Lori's own wedding anniversary. Get the tissues ready and read on:
A few years back, when I was a staff nurse in the cardiac Cath lab, I was on call the weekend of my wedding anniversary. My husband wasn't pleased, but we figured we would still find time to celebrate with each other. Unfortunately, it was turning out to be an extremely busy weekend and the patients were all very sick.
On the day of our wedding anniversary, a case came in for a woman who went into cardiac arrest at her wedding reception, right before she was supposed to have the first dance with her new husband. She was still in her wedding dress when she was brought to the hospital. Everyone worked together in the ER to not cut her dress, and they were able to carefully remove her gown.
The bride was still very sick when she arrived in the Cath lab. She was intubated and we performed CPR. After working quickly and diligently, we were able to fix her heart and transferred her to the ICU. After several weeks, she was well enough to go home.
About two years later, the bride came to the hospital with her husband and wanted to meet the team who saved her life. She was coming in for a Cath a few weeks later and wanted to know if she could have the same nurses.
The couple told us that they had the opportunity to renew their vows and had their first dance because of the care we provided. They also thanked us for giving them the chance to share their lives together.
I can't celebrate my wedding anniversary now without thinking of this patient. As nurses we don't do our work for the "thank yous," but once in a while, a thank you can be life-changing. I've heard nurses say, "If I have touched at least one life, then I know it's worth it." I know what I do is VERY worth it and makes a difference!
Congratulations, Lori! You've won a $50 gift card to get some free scrubs, along with a special prize package that we'll be sending your way soon! Thank you for sharing your wonderful and uplifting story with us!
We received so many AWESOME stories from nurses who work so hard every day to save lives and change lives for the better. It was REALLY difficult to choose only one winner for our contest! We plan to share more of these inspiring stories on our blog soon. We hope everyone had a great Nurses Week!
Looking for a new nursing opportunity with a great salary and benefits? We have great permanent and travel opportunities for RNs all across the United States! Search for your next life adventure with us!