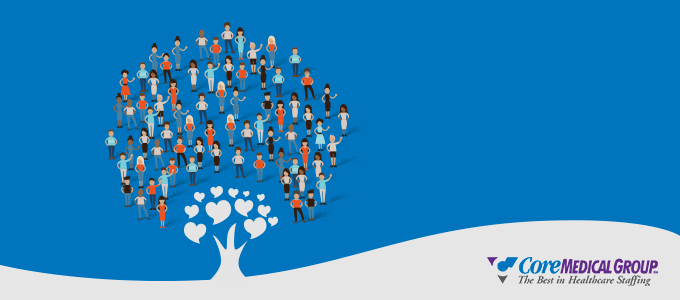 *Blog originally published on 12/21/16 and updated on 4/23/21

Healthcare professionals give of themselves every day, and at CoreMedical Group, we think that generous spirit should be encouraged and emulated. Our intention to be a company that contributes positively to the communities we serve is part of our central mission statement:

"We believe in giving back. Our sustained success has inspired us to create a legacy of giving back to the communities we serve."
This philanthropic commitment is engrained in who we are at CoreMedical Group. We're honored to have an overwhelming number of team members who value giving back not only in their professional careers but in their personal lives as well.
For over 10 years, CoreMedical Group team members have consistently contributed more than $20,000 in goods and monetary donations to deserving organizations during our quarterly charity drives. Without their charitable efforts across the country, we wouldn't be able to support as many initiatives as we do.
Our team members have supported organizations that aid victims of domestic abuse, veterans, the under-resourced, as well as disaster relief efforts in our communities. They've participated in fundraising 5ks, radiothons, and toy drives – just to name a few.
CoreMedical Group is proud to match our employees' donations during these charity drives as part of our company commitment to philanthropy. We not only support our employees' efforts by matching their donations, but we also provide event sponsorships and paid time off for employees to volunteer in their local communities.
Check out the infographic below to learn more about our CoreCares initiatives and the organizations we're proud to support. initiatives and the organizations we're proud to support.



Interested in joining the Core team? Do you enjoy giving back to your community? We're always looking for new team members, especially those who align with our philanthropic mission. Learn more about how you can become a part of the CoreMedical team by checking out our current job listings.