Hilary Obert, DPT, CSCS is from a small town near Quincy, Illinois. She graduated from Saint Louis University with her Doctorate in Physical Therapy and shortly after moved to Seattle. She grew up playing many sports, though mainly soccer and basketball. She continues to play locally on recreational teams and now enjoys running distance races and boxing in her free time.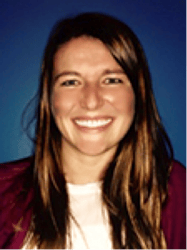 Hilary is passionate about optimizing movement and minimizing impairments in order to optimize performance and prevent injury in her athletes and patients. As she intends to focus her career around sports physical therapy, she has recently begun the sports residency program at MVP physical therapy. She practices clinically at their Starfire location while then assisting various sports teams in the area.
What made you decide to pursue residency training?
I decided I wanted to complete a residency program because I felt school was too general and I wanted further direction and learning in the sports setting. I also dream to work with a high-level team and wanted to gain more experience in this setting.
What residency program are you attending (or did you attend) and why?
MVP Physical Therapy Sports Residency Program: I wanted to attend this program because it has high emphasis on soccer and this is one of the sports I hope to work with in the future.
Can you give an example of a "typical" day in the residency program?
A typical day could include working with the team I normally work with from 9:30-12:30 helping to tape, provide treatments, and then attending training sessions. Then I would work in the clinic setting with "regular patients" receiving three hours of mentoring per week.
What is your typical case load in the program?
I see full caseload working 40 hours per week in the clinic. I also put in extra hours for sports coverage and sports teams that I work with.
How much does the program cost? (i.e. reduced salary or full salary but paying tuition)
I work 40 hours per week, but I receive 85% of the salary I would receive if I were not completing the residency program.
What opportunities have you or will you seek out after finishing the residency program?
I will be seeking a job to work with a professional sports team in the future as opportunities arise.
What have you gained from attending the program that you may not have gained otherwise?
I have gained knowledge, skills, experience with high level athletes, and mentoring to gain clinical pearls in the sports and ortho settings.
What advice do you have for students that wish to pursue a residency after graduation?
Apply early and speak to all of the program directors. As much as they are interviewing you for the spot, you must interview the program in order to find a good fit. Also, be ready to continue to learn every day, a residency program can be hard work!