It's not every day that nurses get the recognition they deserve, but for one travel nurse who went above and beyond her duties as an RN, that's just what she received. While many travel nurses hit the road in search of adventure and excitement, Cindy's experience during the California wildfires in 2018 went above and beyond a typical assignment!

Cindy's path to becoming a travel nurse was not the typical one. As her thirties approached, Cindy took a look at her life and realized she wanted to make a change. "I decided I needed to do what always made me happiest, and that was taking care of people. So I applied for college and worked my way through doing whatever work allowed me to stay focused on getting my AAS to become an RN, and then BSN."

When the ailing health of her sister called her back to California, Cindy turned to travel nursing to take the stress out of the move. "Travel nursing guaranteed me the chance to have a position upon arrival," Cindy explained. She decided to team up with a medical staffing agency because she knew that companies like CoreMedical Group "screen companies for their reliability and stability," adding, "It's a great comfort when going to a new area. Or even returning to a familiar place."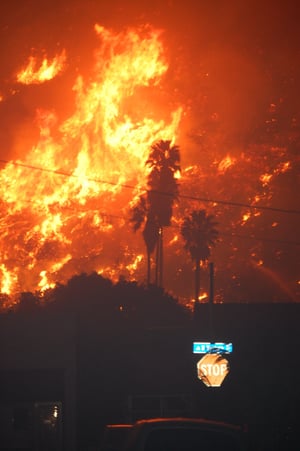 But Cindy found much more than she had planned when she got to California and began working as a home health nurse. Last winter, wildfires swept through Santa Barbara, not only putting Cindy's patients at risk, but also threatening Cindy as well.
According to the 2018 Southern California Watershed Task Force Summary, "the Thomas Fire burned 281,893 acres in December 2017 and January 2018, making it the largest wildfire in California's history." Over 100,000 people evacuated from the area, and over 1300 structures were damaged or destroyed, but Cindy was there, willing to take on the flames to provide care for the patients who could not care for themselves.
Cindy remembers, "As the fires got closer to Ventura where my family was, and to Santa Barbara, there were many patients that needed nursing not only for their current health issues, but also for those that arose from the intense smoke and dangerous air quality produced by the fires."
However, with the flames growing closer to Highway 101, the same road Cindy took to work, a road block had been put in place. Of course, Cindy wouldn't let this barrier keep her from doing what she does best.
"I spoke with the California Highway Patrol officers at the roadblock," she said. "After showing my nursing license and work badge, they determined I was crazy and allowed me to pass!" But soon enough, Cindy was met with another kind of roadblock.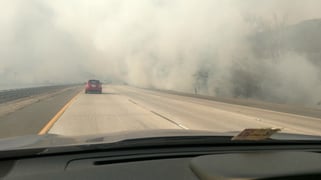 "Once I got to Santa Barbara, I couldn't get out again. All the hotels that had not been evacuated were booked solid. So, I decided to sleep in my car for two days and showered when I got to work," Cindy revealed. "The patients with the highest needs were seen first, and nurses that lived in Santa Barbara outside the evacuation zones pitched in together."
Despite the ever-present danger during the fires, the nurses united to care for their patients and helped each other survive.
Even when there isn't a wildfire to contend with, Cindy says she is constantly using her critical thinking skills because the type of care she provides varies so much each day. "You really get to know your patients and their families, and you can really make a difference in people's lives." And that is precisely why her hospice and nursing center chose to give her a heartwarming shout-out in their seasonal newsletter.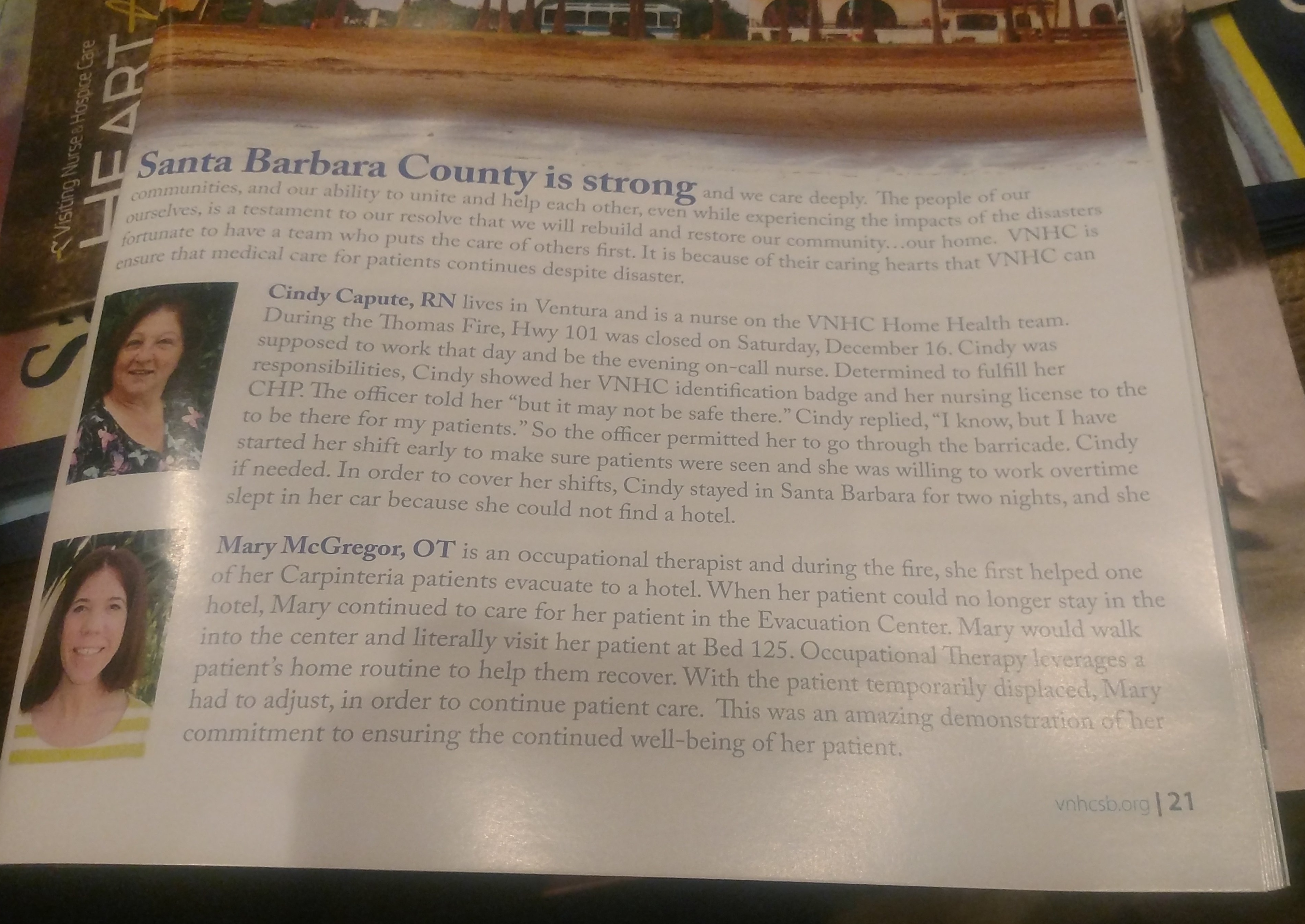 As for her travel nursing career, she initially chose CoreMedical Group for "better benefits and friendlier staff," but it was the kindness of her recruiter Derek Leo that kept her with Core. "I found Derek easy to talk to. He is very personable, which helped me open up to say what I'm looking for professionally," she said.
"Several months after I came here [to CA], my sister lost her fight and passed away. Derek was right there. He listened while I cried and never made me feel rushed or feel that he had more important things to do. That meant a lot." As Cindy expresses, "being a travel nurse is one of the best experiences you can have. Not only do you see different parts of the country and get to meet new people, but the experiences and knowledge you also get from nursing cannot be found any other way."
Interested in becoming a travel nurse and want to team up with Derek or any of our other friendly and caring recruiters? Contact us today!