CoreMedical Group staff partnered with the American Red Cross and the Boys & Girls Club of Greater Salem for the 4th Quarter CoreCares charity initiative. Core's goals were to offset the devastation caused by Hurricane Florence and to assist our local Merrimack Valley community after sudden gas explosions caused our neighbors to be evacuated from their homes.
Core employees were quick to help, launching the call for assistance in mid-September after hearing that at least 70 homes had been damaged by fires, explosions and gas leaks. As a result of the gas leaks, over 8,000 homes in Lawrence, Andover, and North Andover, Massachusetts were without power and hundreds of residents were placed in shelters.
CoreMedical Group was able to fulfill the requests for the most-needed supplies for the displaced residents, and with the aid of the Boys & Girls Club of Greater Salem, over $2,500 of tangible items were distributed to those affected.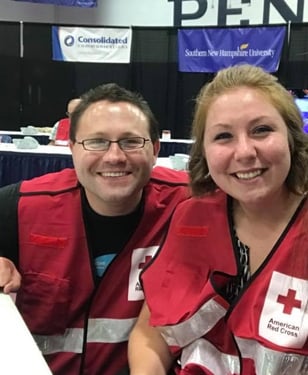 Core staff also donated funds directly to the Red Cross to counteract the devastation caused by Hurricane Florence.
According to the Red Cross, "Over the course of five days, Florence dumped an estimated 10 trillion gallons of water on the Carolinas — smashing rainfall records...and thousands of homes were damaged or destroyed by rising waters."
Some Core employees even took advantage of our Paid Volunteer program to field phone donations for a call center set up by the American Red Cross of the New Hampshire and Vermont Region. They were able to take time away from their desks to pick up the phones, seeing over $40,000 raised before their shifts were up! In total, the phone-a-thon raised $95,000 for Hurricane Florence Relief.
We are proud to announce that CoreMedical Group surpassed $2,500 in donations to the Boys & Girls Club and $4,600 to the Red Cross! Core also committed to matching the value of each donation, dollar-for-dollar, and shared the $7,100 contribution with the Red Cross for their continued relief efforts.
Learn more about the CoreCares initiative and how CoreMedical Group supports organizations in need by clicking below!