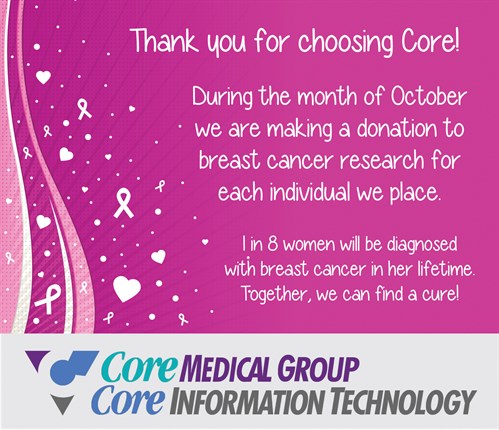 October is Breast Cancer Awareness Month, and Core is supporting the cause by making a donation to breast cancer research for every individual placed in a new travel nursing, travel allied, or permanent job during October.
In addition, Core is raising awareness for breast cancer by having a Pink Pride Selfie Contest! Congratulations to the winner of our contest, Isha! Isha honored her mother who is currently fighting breast cancer and bone cancer with her #CorePinkPride selfie. In addition to being an awesome Mom, Isha's Mom is a wonderful grandmother. Please keep her in your thoughts and prayers!
Thanks to everyone who submitted #CorePinkPride selfies!
"With over 3 million women battling breast cancer today, everywhere you turn there is a mother, daughter, sister, or friend who has been affected by breast cancer."
-Betsey Johnson