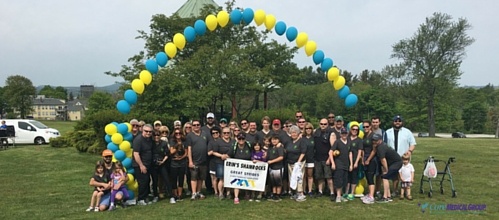 During the month of May, people across the country banded together to participate in Great Strides walks to benefit the Cystic Fibrosis Foundation (CFF). One of those events took place in Manchester, New Hampshire, where our Physician Consultant Manager Jami Leger was leading a team fifty strong to support CFF.
Jami has been supporting the Cystic Fibrosis Foundation since 2007, when her daughter Erin was diagnosed at just two weeks old. Cystic Fibrosis is a genetic disease that impacts the lungs, pancreas, and other organs. It's a rare disease, with roughly 33,000 people in the United States currently diagnosed.
"When your child is diagnosed with something like this, you can either bury your head in the sand or you can do something," said Jami.
And do something she did! Jami joined the committee organizing the Great Strides walk in their home town in New York and began the team "Erin's Shamrocks" to bring together family and friends for support. When her family moved to New Hampshire, she continued to support CFF and Great Strides by joining up with the Northern New England Chapter.
"One of the great things about CFF is that almost 90 cents of every dollar raised goes into research and support for this disease. They've made huge progress in treatments because of the research they do," Jami explained. "They're helping to raise the life expectancy for kids like Erin."
This year Erin's Shamrocks contributed almost $7,000 to the foundation and had roughly fifty people walk during the Great Strides event. It was one of the biggest teams they've had to date! Core was proud to donate to the team and had a group of employees on the team, including recruiters from various divisions, Pat Shea, Director of Physician Staffing Services, and Aram Hampoian, Vice President of Healthcare Travel Services.
"Between donations and coworkers participating, Core has always been supportive of us and our team." Jami said.
Jami's daughter Erin definitely isn't letting her Cystic Fibrosis slow her down. She was the first participant to cross the finish line the day of the walk! She's a busy kid who plays soccer and participates in gymnastics.
"We've always told her about CF and that it's a part of her. But it doesn't define her," said Jami. "Life throws obstacles at you and it's all about how you get over them."
Jami, Erin, and the rest of their family are certainly facing those obstacles head on and doing all they can to support CFF and raise awareness for this rare disease.
To learn more about the Cystic Fibrosis Foundation and their efforts to fight CF, visit www.cff.org