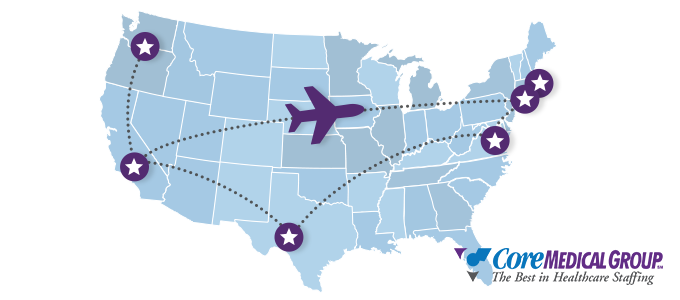 Traveling PTs, OTs, and SLPs have the opportunity to work in so many different locations that sometimes searching for your next contract can be a little bit like choosing a favorite ice cream flavor. How are you supposed to choose a favorite when there are so many delicious varieties?
We checked in with our recruiters to find out where the most popular and best locations for traveling PTs, OTs, and SLPs are. Here's what they told us:
The Best Travel PT Locations Are:
Maryland: The licensure process in Maryland takes just 1-2 weeks, so already this is sounding good, right? Seafood lovers can partake of the delicious Maryland Blue Crab while history buffs visit locations like Annapolis and Antietam National Battlefield. Maryland also features several well-known healthcare organizations. You may have heard of a little place called Johns Hopkins?
Massachusetts: In 2015, Massachusetts had the second highest concentration of physical therapists in the U.S. (8,010), second only to Vermont. The licensing process can take 5-6 weeks, but you can spend that time sightseeing in Boston or hiking a piece of the Appalachian Trail. New England states are generally more popular for traveling PTs, and traveling health workers in general, in the summertime (no snow), but don't discount its beauty in the fall and winter.
Connecticut: Licensure in this sometimes underrated New England state takes just 2-3 weeks with a single-page application (plus transcripts, etc.). The state is home to several highly rated hospitals and medical facilities, many associated with well-known universities like Yale, and features all the New England charm you can handle, plus a gorgeous coastline.
California: Need we say more? OK, we will: In 2015, 19,000 physical therapists were employed in California. Granted, it's a large state, but when you consider the multitude of different opportunities a place like that can afford a traveling PT, things start to look really good. The downside: Licensing can take up to 10 weeks to process and does require a fingerprint card or LiveScan, but hey, it's California.
The Best Travel OT Locations Are:
California: Cue the Beach Boys tunes again. For OTs, California will actually issue a 60-day permit to practice when the application is received, which is great when you're preparing for a travel contract. And according to the BLS, the Los Angeles-Long Beach-Glendale, CA metro area has the third highest employment in the country for OTs compared to other metropolitan areas. So-Cal, here we come.
Connecticut: Getting a Connecticut OT license takes about 1-2 weeks, which is a huge plus. For a small state, Connecticut also features numerous different types of positions in different communities—from more urban to more rural—and proximity to New York City and Boston, for those looking to travel more on their off-days.
Washington: This state is particularly popular for school contracts, according to our recruiters. The licensing process takes 6-8 weeks, but OTs looking for the chance to explore the beauty of the Pacific Northwest should consider any of the numerous job opportunities available.
The Best Travel SLP Location Is:
Texas: There is almost always employment available for SLPs in Texas. In 2015, there were 12,710 speech language pathologists employed in the state. Licensure takes 3-6 weeks and the most popular areas for SLP employment are definitely in the metropolitan areas (Houston and Dallas), but opportunities are also available for those looking for a more country location.
Looking for your next travel Allied Health position? Check out our jobs page and see if CoreMedical Group has what you're looking for.