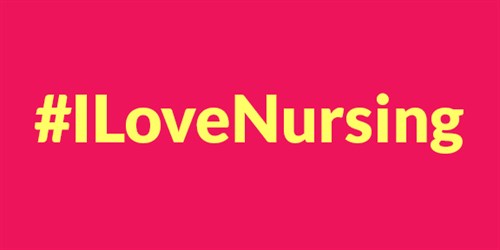 All RNs and LPNs know that being a nurse can be one of the most difficult jobs imaginable. Nursing can also be incredibly rewarding. There are many reasons caring and compassionate people have pursued nursing careers, and many reasons those same people stick with the profession.
Here are the top 8 things to love about nursing, in honor of National Nurses Week! (Want to add to our list? Share what you love about nursing on Facebook, Twitter, or Instagram with the hashtag #ILoveNursing for a chance to win prizes!)
1. The Job Security.
While it's necessary to love what you do as a nurse, it's also a nice perk that you have job security. According to the U.S Bureau of Labor Statistics, Registered Nurse employment is expected to grow 19 percent by 2022. This is largely due to the baby boomer generation aging and needing more nursing care. It's nice to know that you'll always have a job as an RN!
2. The Uniform.
Is there anything more comfortable on the planet than scrubs? Pajamas maybe, but it's a pretty close call! It's nice to be able to show up to work in comfortable clothing and shoes, isn't it?
3. The Humor.
Most nurses have a great sense of humor. Let's face it; you need to laugh in order to stay sane in this business! Dealing with life and death situations every day can be incredibly depressing if you don't take a few moments to laugh (when and where appropriate). Laughing about a zany work story is one of the best benefits of being a nurse!
4. The Choices.
There are so many choices when it comes to a career in nursing. You have the choice to pursue a particular specialty, to work with a certain population (like the elderly), to work in an urban or rural area, and to work the shifts of your preference. Whether you prefer to work nights, days, 3 shifts a week, or 5 shifts a week, you have the ability to set your own schedule based on your needs!
5. The Challenge.
Part of the reason you entered the nursing profession was for the challenge. And every day brings new challenges! Registered Nurses have very scientific and curious brains, and therefore love problem-solving. As a nurse, you're solving some of the most challenging problems of all.
6. The Fast Pace.
Who needs a gym membership when you're on your feet all day (walking AND running)? The fast-paced environment at a healthcare facility can be part of the thrill of nursing. Yes, some days are simply exhausting, but the fast pace certainly makes your shifts go by faster!
7. The Salary.
Nurses, especially those with more experience, have the opportunity to make really good money. A lot of it depends on where you practice and what specialty you choose to be in, but the average salary for an RN is $66,220, according to the Bureau of Labor Statistics. The 10 percent of Registered Nurses who are the top earners in the U.S. make more than $96,320 a year. Not bad!
8. Making a Profound Difference.
We saved the best reason to love nursing for last! No matter how long you've been a nurse, the feeling of making a profound difference in someone's life is ALWAYS awesome! Patients, family members, and friends who thank you for doing so can make it even more rewarding. No matter how bad a day at work may be, touching lives and making such a difference makes it all worth it!
Why do you love nursing? Tell us by using the hashtag #ILoveNursing on Facebook, Twitter, or Instagram for a chance to win great prizes (Make sure to tag CoreMedical Group and make your post viewable to "Public")!
Submission must be received by noon on Tuesday, May 12th! Feel free to send us a picture with your entry as well!
If you prefer to email your contest entry, please email it to Lisa.Charland@CoreMedicalGroup.com.
You don't have to work for CoreMedical Group to enter our Nurses Week Contest! More details here.