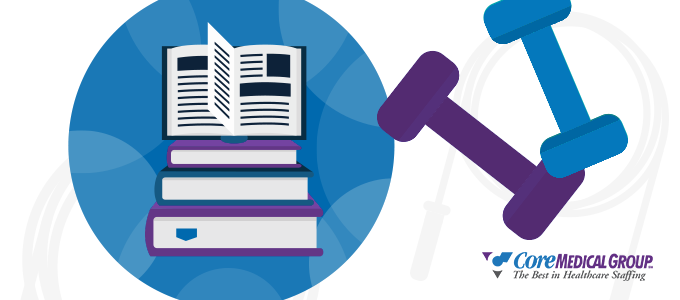 You're the kind of person who loves to keep learning. As a physical therapist, you're fascinated with how the human body works—that's one of the reasons you got into healthcare in the first place. And the more you learn, the cooler it is. You like to keep busy and are always looking for ways to be better at your job.
If any of that sounds familiar, then you've probably considered taking a continuing education course or two to stay sharp at work and broaden your knowledge of physical therapy.
Here are seven continuing education courses for physical therapists that you might not have already considered, and why you should:
1. Chronic Disease, Quality of Life, and the Role of Home Health Physical Therapy
The American Physical Therapy Association offers a wide catalogue of online and audio continuing education courses, some of which are discounted or free for APTA members. This course looks at how home health physical therapy interventions can have a major impact on the quality of life for the millions of patients living with chronic diseases.
2. Loss, Grief, and Adjustment: A Primer for Physical Therapy, Parts 1 and 2
Loss and grief are not only emotions associated with death and dying. There are other losses that PTs and PTAs help patients cope with every day. In this APTA course, you'll be able to describe the factors that affect the outcome of and adjustment to the experience of loss, differentiate the types of grief, discuss grieving behavior, compare models of bereavement, and consider the effect that coping strategies may have on PT outcomes.
3. Sport Safety for Children
TodayinPT.com also offers affordable online courses to get you those CEUs you need to fulfill your licensing requirements. The goal of this program is to provide physical therapists with current knowledge of sports safety interventions for children, and the ability to identify potential risk factors for injury and describe available preventative measures. Course participants will also learn to understand the physical uniqueness of child athletes and identify venue-specific emergency action plans.
4. Robotics and PT: The New Age of Function, Movement, and Recovery
This course from the APTA Learning Center will emphasize advances in robotics that can be integrated in clinical practice and research for PTs. According to APTA, participants will be exposed to evidence-based information on robotics and physical therapy. Advancing technology is an ever-changing part of your life as a medical professional, it can't hurt to stay on the cutting edge.
5. Emergency Department Physical Therapist Service Removing Barriers and Building Bridges
Also from the APTA, the purpose of this course is to describe a framework for establishing and sustaining emergency department physical therapy practice. Physical therapists could be capable of providing specialized expertise in the hospital emergency departments, but the expansion of PT into the emergency room presents challenges. This course provides an overview of emergency department PT services, describes program development efforts, and illustrates examples in which services have resulted in improved interdisciplinary patient management.
6. Pharmacology Basics for the Geriatric Population
Another online sources for CEUs is PhysicalTherapy.com. Whether or not you work with elderly patients on a regular basis, it's important to know how certain medications can impact an aging body. This course lays out the basics in a short, yet thorough presentation.
7. Business and Marketing
What do business and marketing have to do with physical therapy? This APTA course aims to provide a comprehensive analysis of the factors that influence physical therapy economics and organizational and management principles. The course is designed to help physical therapists understand their role in the cost effective delivery of physical therapy services and the business principles, economics, and culture that influence success.
Concerned about fitting continuing education into your schedule as a traveling physical therapist? Don't be. Most courses can be taken online in a relatively short period of time. You can fit online courses into your schedule when it makes sense for you.
Looking for other continuing education opportunities? CoreMedical Group provides our travelers with free CEUs as part of our benefits package. Interested in speaking to one of CoreMedical Group's recruiters and learning about the jobs and benefits available? Contact us today.