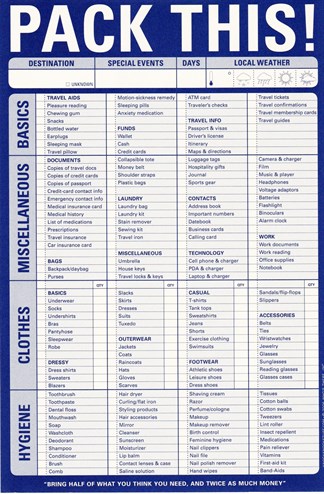 So you've just accepted a travel assignment. What now?
Don't worry. The team at CoreMedical Group is here to help. Here are 5 things that should be on your travel assignment checklist, whether you're a nurse, physical therapist, occupational therapist, or other health care professional.
Your recruiter's cell phone number.
Sometimes issues will crop up when you're in your new location or on the way to your new location. Be sure to have your recruiter's cell phone so you can contact them, whether they are in or out of the office.
Research the area you're traveling to and make arrangements based on your personal needs.
If you're traveling with a pet, you may want to arrange for a pet sitter and find the nearest animal hospital. Traveling with children? Research babysitters/daycare centers. If you have to take public transportation to get to your new job, download or print out the bus and train schedules. Need to stick to your workout plan? Look up the local fitness centers.
It's also helpful to find the phone numbers for the local police and fire departments. Everyone's situation is different, so do whatever you need to do to prepare for life in your new location!
Get your vehicle travel-ready.
Most of our travel nurses and healthcare professionals travel to their new location by personal vehicle. Make sure you get your vehicle checked before you travel to your new assignment. Get the oil changed, tires inspected (and changed, if necessary), and resolve any other potential issues specific to your vehicle.
It also helps to have a GPS and a road atlas. We also highly recommend an AAA membership, in case you run into any problems on the road.
A credit card.
Some hotels and car rental agencies will only take credit cards. Be sure to have a credit card on you just in case you can't pay for something with a debit card or cash.
It's also helpful to have a credit card in case of an emergency. CoreMedical Group travel professionals also have the exclusive benefit of the Global Cash Card, a debit card that can be reloaded by your recruiter.
Make sure your hotel reservation and housing is lined up beforehand.
Sometimes our nurses will run into issues with housing/hotels once they've arrived at their new location. Be in touch with your recruiter, the hotel, etc., leading up to your assignment to ensure that your housing situation is set before you arrive.
Interested in a travel nursing or therapist position? We have several of high-paying opportunities available in all 50 states! Contact a recruiter today at (800) 995-2673 x2000.