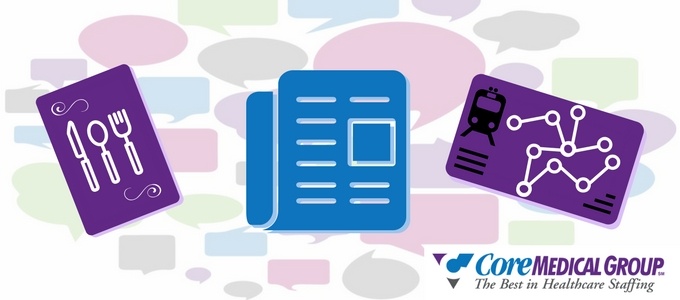 When it comes to a traveling speech pathologist's toolkit, often the easiest and most accessible speech therapy ideas come from smartphone apps and online assessments. Though these tools are certainly cutting-edge, it's easy to forget the "old school," low-cost speech language pathology tools that are available to travel SLPs. Here's a list of 5 low-cost and tech-free tools that traveling speech therapists can get their hands on in any location.
1. Magazines
Magazines are a great tool for SLPs who are treating clients of any and all ages! From Highlights for children to Time, Women's Day, and Sports Illustrated for adults, there are thousands of age-appropriate magazines available for little money. Plus, with the wide range of subjects featured in the medium of magazines, you're able to shape your therapy to your client's interests and provide a visually-appealing tool that's less like therapy and more like chatting with a friend.
2. Newspapers
When it comes to discussions of current events you can't beat a good old-fashioned newspaper. Newspapers are often freely available at coffee shops and libraries around the globe, and usually cost less than $2-$5 to purchase. Newspapers are a great SLP tool for asking and answering questions and checking literacy, but it's not all about reading the latest articles. Take a tip from the American Speech-Language-Hearing Association (ASHA) and use comic strips in speech therapy to discuss patterns in conversation, new vocabulary, and emotions and expressions.
3. Menus & Maps
Menus and maps are free, functional tools that can help your client gain confidence in making dining and travel decisions for themselves. These talk tools can be used for pragmatic role play (waiter and customer), problem solving (what if you have a food allergy or what if this street is blocked), public speaking, and vocabulary. Plus, for SLP clients who are used to their caretaker or parents ordering for them, becoming familiar with the language of menus not only helps improve everyday speech, but can increase your client's independence.
5. Tangible Games (Board Games, Dominoes, Playing Cards)
Utilizing inexpensive and tangible games like a deck of playing cards or UNO, and game pieces like Scrabble letters or Dominoes can work wonders for speech therapy clients, and are easy to pick up and move when you're an SLP with travel jobs across the US. Game play helps to teach turn-taking, problem-solving and following directions and comes with well-defined goals with matching colors and numbers, categorization, building vocabulary and more!
These low-to-no-cost speech therapy tools are always available help you and your clients. In a world where new technologies come and go in what seems like an instant, for a travel SLP sometimes it's best to shape therapies around inexpensive and no-tech tools. Step away from the screens and electronic devices and pick up a newspaper!
If you're interested in becoming a traveling allied health professional, take a look at our guide below, and see what benefits CoreMedical Group can offer you today!