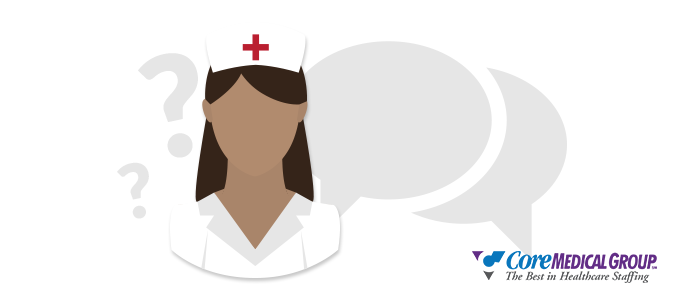 Nurses face a multitude of questions each and every day, from doctors, fellow nurses, patients, and family members. Patient questions are often the hardest for nurses, because they're looking for simple answers to complicated questions—some of which are questions you can't necessarily answer for them.
It's important to respond to every patient question—even the ones you can't fully answer—with tact and compassion, but it also helps to be prepared for the questions that might come. Here are five common patient questions with some tips for how to respond.
When can I see my doctor?
In most healthcare environments, a patient will see a nurse before he or she sees a doctor. And sometimes, no matter how hard you're working to care for that patient, they will just want to know when they can see the doctor. Since there's a good chance you won't have an exact ETA for the doctor's arrival in the exam room (can you ever get an exact time or location for a doctor?), just answer to the best of your ability, even if that answer is, "I'm sorry, I don't know, but I can check for you."
This is also one of those unfortunate areas where people sometimes forget, in the heat of the moment and their current state of stress or fear, that you are not just a set of scrubs. You are a person who is just doing their job and is trying to help. It's hard, but just try to remember when the patient or one of their family members is demanding to see a doctor, it's not really about you or the job you're doing. Respond as politely and compassionately as you can, then head to the nurses' station and give yourself a couple minutes to breathe.
When can I have food/meds/visitors?
For nurses working in hospitals or any in-patient setting, keeping to a food or medicine schedule set for a specific patient is incredibly important. It can also be incredibly frustrating for a patient whose anesthesia just wore off, leaving them really hungry because they had to fast for several hours before a surgical procedure.
Unlike the previous question, this one usually has a specific answer, but it may not be the one the patient wants. Just deliver your answer with empathy and be as transparent with them about their schedule as you can be, whether you're talking about food, medicine, or visitors.
Personal questions about YOU
One of the wonderful things about nursing is getting to meet and care for different people. One of the less wonderful things about nursing is that occasionally the people you meet will ask you personal questions that you have no desire to answer in a work setting.
Gracefully side-stepping these questions is a skill perfected over time for most nurses, but again, it helps to just prepare yourself mentally in case one comes along. Try, "Let's focus on you, for now. How are you feeling?" or something similar as a segue out of an awkward situation. And, of course, if you ever feel truly uncomfortable, let your supervisor know.
How long until my test results are back?
Yes, another timing question. Nurses are generally more accessible to patients than doctors or specialists, so you're the one they check in with when they're worried and waiting. Managing patient expectations is often a really big part of nurse-patient communication, so don't make up a time if you don't know. It's a good idea to have a basic estimate for procedures you see a lot to help with answering this patient question, but saying, "I'm not sure, I can check for you," is perfectly acceptable too.
The doctor said _______, what does that mean?
This is another difficult patient question. Patients sometimes think of a question after the doctor's left the room, or were confused but afraid to ask for clarification when the doctor was in the room, so they ask you. Sometimes it's as simple as defining a medical term they didn't understand, but sometimes they're asking for you to translate the doctor's diagnosis on to a severity scale. Like, "The doctor said I need to come back again next week for another test, is it that bad?"
Just follow the doctor's diagnosis and your instincts on this one. Calm the patient as much as you can if they're concerned, but also be realistic with them. It's a tough balance to strike sometimes, with any of these patient questions, but it makes a huge difference to your patients to know they have someone there who cares enough to answer their questions.