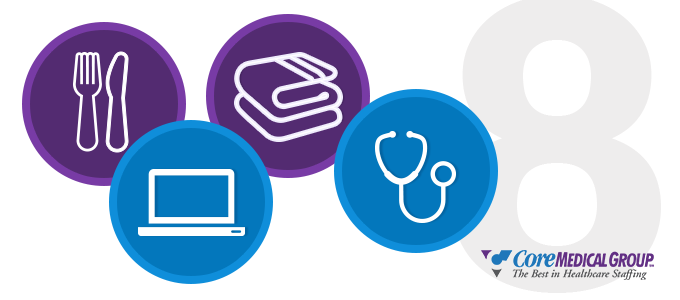 First rule of being a traveling nurse: pack light.
Of course there are other important things to remember about travel nursing, but trust us, moving between contracts will be a lot easier if you're not trying to pack an entire apartment into the trunk of your car.What you do want to take with you are a few essentials that will make every single location feel like home.
1. Linens and Towels
When beginning a new travel nursing contract, you always want to ask about the housing situation—as in, what you can expect to find in your new home and what you'll have to bring with you. Often, even if the house or apartment is fully furnished, you'll have to bring your own bed sheets and towels. Bringing your most comfortable sheets and a blanket or two can help make a new place feel homey, and help you get a better night's sleep as you adjust.
2. Cooking and Eating Utensils
Even if you're not someone who cooks often, you may want to bring along a couple cooking essentials—or at least a real plate and fork to eat your takeout with. Use small plastic containers to pack jewelery or toiletries and when you unpack at your new location, use them as dishes or lunch containers.
3. Uniforms and Work Shoes
Always make sure you have the necessary uniform items for your new position, and comfortable shoes. An extra pair of everything never hurt anyone (this is not the place to skimp).
4. Travel Folio for Nursing Paperwork
You'll have quite a bit of required paperwork for new contracts, and you don't want to get all the way to California to find out you left your licensing forms back in Tennessee. We recommend investing in a decent pocket file, so you're not lugging around boxes or carrying folders that papers could slip out of.
5. Electronics and Chargers
When you're all packed, check and double check that you have your laptop or tablet, phone, and chargers for all of the above. While you could probably pick up a new charger at the nearest electronics store, doing that over and over again could get pricey. Bonus: If you haven't already, invest in a Netflix, Hulu, or Amazon Prime account. You'll be able to watch all your favorites on your laptop or tablet wherever you can get WiFi.
6. A Good Stethoscope
Yes, you can absolutely justify bringing your own stethoscope along. Who knows if your new facility will have one like yours that fits into your ears perfectly? Seriously, it's small. Go ahead and take it.
7. Little Things That Make You Feel at Home
Whether it's candles, framed photos, refrigerator magnets, or that lamp you've had since your nursing school days, be sure to pack at least a couple small things that will make your new place feel like it's really yours—even if it's just for 13 weeks.
8. That One Luxury Item You Can't Live Without
Maybe it's your giant electric blanket. Maybe it's your expensive coffee maker. Whatever that one thing is that you know you could leave behind, but would probably regret not having about a day into your new contract, take it. Allow yourself a splurge. You deserve it.