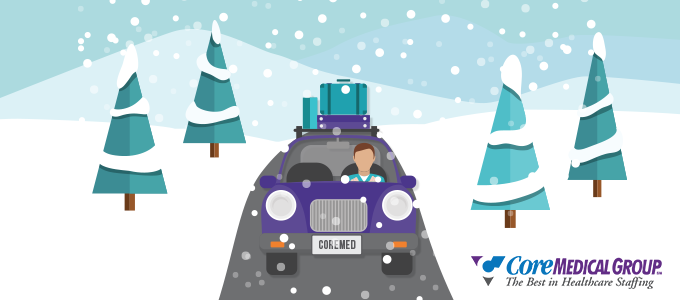 Winter is a very divisive season. Most people tend to either love it or hate it. Traveling in winter, however, is something we generally all agree on: it's something that can cause anxiety, aggravation, and sometimes, missed opportunities.
As a traveling PT, OT, or SLP, you're constantly... traveling (that one was pretty obvious). You have to be prepared to travel in any season, so we're presenting three winter travel tips for healthcare travelers to help you arrive at your next destination safely and successfully.
Tip #1: Choose Your Travel Contract Wisely
If you're not a winter person, don't take a contract in Maine that starts in January! When you're a travel therapist (with a good recruiter) it really can be as simple as navigating the right area of the country as the weather starts to shift. Obviously you'll need to plan ahead, but if you and your recruiter have a good relationship, you can work together to find the best contracts, in the best places, at the best times.
That said, we certainly know travelers who move with the snow, rather than away from it. If you've always dreamed of skiing in the mountains of Colorado, consider taking advantage of your career as a traveling healthcare professional to make that dream a reality.
Tip #2: Factor Weather Into Your Travel Plans...No Matter Where You're Going
When coordinating your travel for a winter contract with the help of your recruiter, be sure to give yourself a little extra time at each step of the trip. Yes, even if your new contract is in sunny Southern California. Winter weather has a way of ifiltrating and impacting plans when you least expect it, through connecting flight delays or fluke storms on the road or any number of other unplanned events.
Working in travel healthcare, you have a lot of "first days," but that doesn't make them any less important. Your first day at a new contract is a chance to make a great first impression, and a big part of that is being on time and prepared. So just remember that sometimes with winter travel, this takes a little more effort than usual.
Tip #3: Ask About Winter Weather Procedures Before You Get There
If you're in the process of applying to a contract in a northern locale that will begin at a time when wintery weather would not be unlikely, just ask the questions ahead of time. Most employers really mean it when they say, "Do you have any questions for us?" at the end of an interview or meeting, and your desire to know ahead of time what the winter weather processes and procedures are will both make you better prepared and make you look good as a candidate.
All three of these tips do fall under one main point: When taking a travel contract in the winter, plan ahead. Your recruiter will be a huge part of that effort. If your current recruiting or staffing agency isn't helping you feel prepared for new contracts, then we offer you a quick tip #4: find a new recruiter.