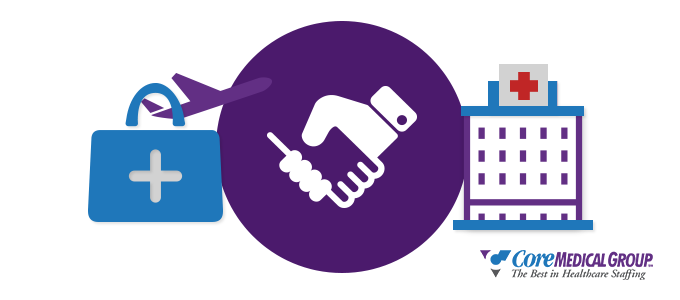 It's the million-dollar question for hospitals, healthcare facilities, and basically anyone trying to hire a medical professional: Why hire travel nurses, and contract staff in general, instead of just hiring permanent staff?
Historically, traveling nurses were hired for short-term staff needs, like a hospital nurse out on maternity or medical leave, or a sudden influx in patients due to a flu outbreak or a tourist season—and those are still big factors for hospitals when it comes to hiring temporary staff.
But the list of reasons to work with travel and contract nurses has also expanded over the years as the healthcare field has changed.
Exponential Growth
For the last several years, any discussion of employment statistics and job creation has included the word "healthcare." The healthcare sector is predicted to add 2.3 million new jobs before 2025—a growth rate of about 19 percent, which is well above average according to the U.S. Bureau of Labor Statistics.
This is obviously incredible news for candidates seeking jobs in healthcare, but what does it mean for employers?
When candidates have more available jobs to choose from, more facilities may find themselves in the position of needing to fill the gaps between hiring full-time staff members. It's a squeeze a lot of healthcare facilities—particularly those in less metropolitan areas—have felt before when trying to hire nurses, and it's another big reason to consider partnering with a recruiting agency.
Travel nurses are made for hard-to-fill positions. They're adaptable, adventurous, and ready to take on jobs where they're needed. As the healthcare job market changes, more hospitals could find themselves turning to travel nurses in staffing shortage situations.
Excellent Care
A 2013 study showed that 95% of the country's top hospitals use agency nurses. There was, and still is sometimes, a perception that hiring travelers would lead to a decrease in the quality of care—which is simply not true.
Working with a reputable recruiting agency can actually help a facility increase the quality of patient care, by providing qualified, dedicated temporary staff to fill positions that would otherwise be gaps in the hospital's capabilities. In short: As a nursing director, staffing manager, or hospital administrator, you have to be prepared for every possible situation, and hiring travel nurses can help you do that.
A USA Today article from 2015 reported that the demand for travel nurses had reached a 20-year high, citing the improving economy and the increase in patients with health insurance as a result of the Affordable Care Act as two of the reasons for the spike. That trend is not expected to slow any time soon. In fact, it's expected to accelerate. It may be time for healthcare facilities to stop asking "why" hire travel nurses, and start thinking about where to hire them from.
If you're interested in learning more about CoreMedical Group's candidate screening process, contact us today.